Adding a deck to your home or replacing your current deck uplifts your backyard space and gives it a look new. It adds a great place to entertain your guests or creates your own relaxing space where you can enjoy time with your family.
As you start your path to finding the right decking contractor for your needs, here are six essential questions to ask yourself when planning a deck. Consider them if you want to make your deck building process painless and easy.
Let's begin.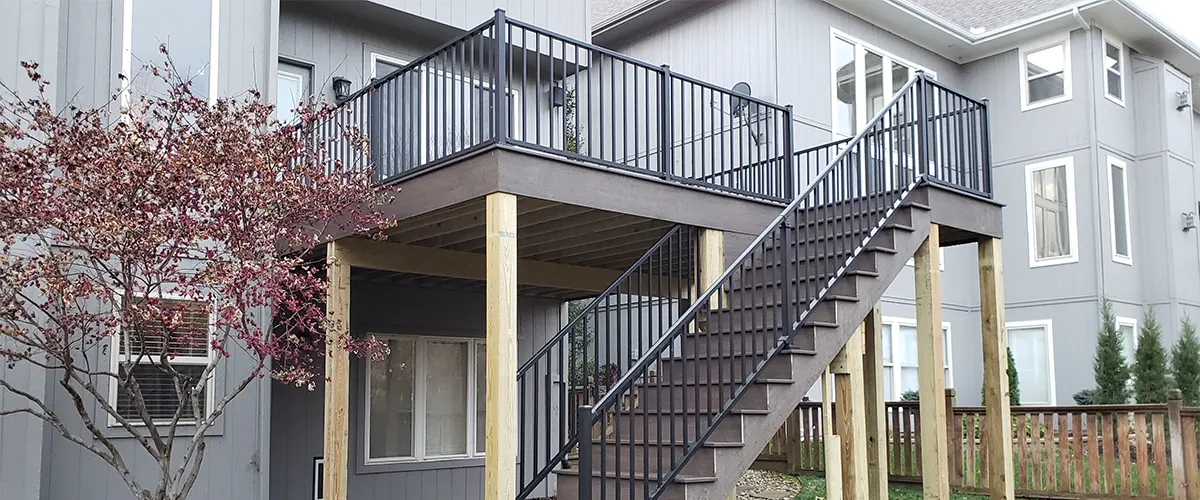 1. Why do you want a new deck?
For some, it's because their current deck is simply starting to show its age. Others may want something a little bigger, while others are just tired of keeping up an older wood deck. But more and more people are concerned about their safety first.
According to North America Deck and Railing Association, the number of deck failures and resulting injuries has been increasing at an ever greater rate over the last 10 years.
Although it doesn't seem like it, the first step in building your new deck is finding why you want it.
A lot of our customers choose us to give them a place to relax right in their backyard. And for whatever reason you want it, a deck will also increase your property's value if you're thinking of selling it.
Even a simple deck brings great value to your life and property.
2. How much maintenance do you want to perform?
All decks require some maintenance, but some products are easier to care for than others.
Wood decks, for example, are the most common and simple decks out there. They require regular cleaning and staining, sometimes as often as twice a year if you want to keep them looking at their best.
While some of our customers enjoy the extra work, many others are starting to see the benefits of low-maintenance decking.
Composite and PVC decking are growing in popularity because they require so little maintenance. But match a composite decking with a steel frame and aluminum or composite rail, and you'll have a zero maintenance deck in no time.
Other than the occasional cleaning, there is virtually no maintenance with many of our products. Deciding how much time you want to spend caring for your outdoor space makes the material selection process way easier.
3. When do you want your project completed?
Most people decide they need a new deck between March and August. That means deck contractors are at their busiest during the spring and summer months.
If you plan to have your deck built before a specific date, make sure you communicate that with your contractor to make sure they can meet your needs.
Here at Hankins Decks, we have a limited number of projects we take every season. We dedicate ourselves to delivering the best end-product in Kansas City, and homeowners around here love it.
4. How are you planning to use your new deck?
How you plan to use your deck makes designing it much easier.
If you like to entertain your guests, a deck with a lot of space may fit your needs best. If you want to access your backyard from your deck, stairs with railings will be a must. A deck with a pergola and a swinger will be perfect if you just want to relax.
When we know how you want to use your new space, we can find the best features for your needs.
5. How much do you want to invest in your new deck?
Research and communication with your contractor play a huge part in deciding your budget. We're aware that homeowners aren't in the decking industry. This is why we made it our mission to provide transparent pricing and let you in on everything happening with your investment.
To help you with this, we have a list of common pricing for decks right here on our website.
However, each deck is different. Before our on-site consultation, we give our customers a couple of ballpark figures over the phone.
From there, we can look at different options or alternatives to best suit your needs, and we'll find out how we can best meet your budget.
6. How long do you want your deck to last?
Decking materials play a big factor in how long you want your new deck to last.
All of our composite decking and PVC decking options include at least a 25-year warranty. That means our decks will be the last decks they will ever have to build on their homes.
Low-maintenance decks will last many years to come. But if you want to take it one step further, invest in a steel frame for your deck. Steel framing ensures your deck won't suffer any structural issues over time, but most importantly, it'll remain safe for you and your loved ones.
Asking yourself these six simple questions streamlines your experience from all perspectives.
But don't worry if you don't know the answer to all of them!
We'll with you all these questions during our first phone consultations to discover how we can best serve you. We'll help you decide which option would work best for your needs and budget, and we'll schedule an on-site consultation whenever convenient.
Click the button below or call us directly at (913) 703-3257.