Decks are popular additions that improve your daily life by offering a perfect outdoor space to kick off with your loved ones.
When we talk about the frame of your deck, there are two main types from which to choose: metal frame decks or pressure-treated wood frame decks. Metal frame decks are growing in popularity due to their longevity and low maintenance requirements.
At the same time, wood frame decks remain the traditional choice for deck framing. They bring that natural feel to your home and make your outdoor living space more comfortable.
Both have their pros and cons and finding the one that will bring the most value to your precious home takes time.
This blog post will discover the difference between a metal frame and a lumber frame for a decking project. We discuss benefits, costs, and how they improve your home.
Let's dive in!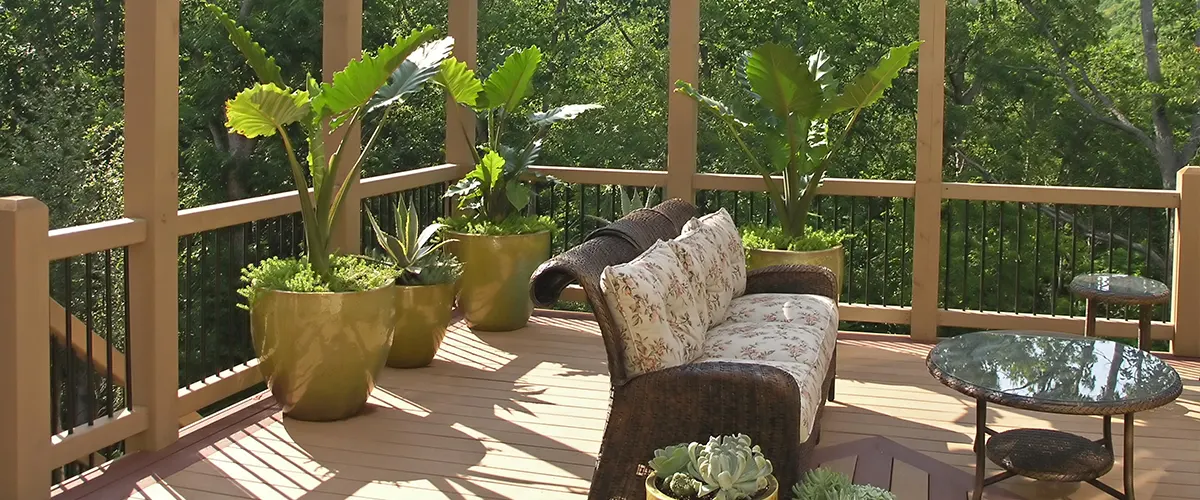 Steel Frame Replacing Wood
Lumber was the only framing option available for decks not too long ago.
However, since lumber typically starts deteriorating after about ten years, homeowners turn to steel beams as an alternative.
Cold-formed steel (CFS) framing is great to create durable and sustainable outdoor living spaces all over the U.S.
Homeowners prefer steel's lower cost, availability, and long-term durability that wood fails to deliver without proper maintenance.
It's a win-win situation for today's DIYers. And here's why:
Lumber Is Becoming Easier To Find
Since professional deck builders and contractors are moving away from using so much lumber, finding wood is now easier.
However, lumber prices continue to increase in an effort to stop deforestation and global warming.
A 1×8 inches plank of pressure-treated lumber ranges from $10 to $14. A 2×8 inch of the same material ranges from $16 to $32.
Steel In Residential Building
Steel is gaining more and more popularity in residential construction.
Because of steel's durability and its safety in harsh climates, professional contractors and builders are looking at this material as a great alternative to lumber.
In 2002 the U.S. Department of Housing built a steel home alongside a wood home to compare the end project. The steel home cost about 14 percent more to build and required more time to complete.
Steel is incredibly versatile. Metal decking works on ground-level decks or even elevated structures like balconies.
With metal deck framing, the sky's the limit when it comes to creating a beautiful outdoor living space that will last a lifetime, which is why professional deck builders choose steel to build sturdy, safe decks.
Let's look at some of the benefits of a steel deck frame.
Steel Has A Great Strength To Weight Ratio
Compared to wood, steel has a much better strength-to-weight ratio. This means that steel is much sturdier without adding too much weight to it.
This makes steel a great option for framing decks and houses in areas prone to floods, tornadoes, earthquakes, and severe storms. For example, Sherman County in Kansas saw 113 occurrences of tornadoes between 1950 and 2020.
In Olathe, 3,105 properties have a greater than 26% chance of being severely affected by flooding over the next 30 years.
Although the risk is still minor, it is increasing. Having a sturdy steel frame instead of a wobbly lumber structure will save you from costly mistakes during tough times.
Does Not Twist, Warp, Shrink, Or Change Shape
Wood is infamous for its twisting, warping, and shrinking when exposed to different weather conditions. With time, the lumber in your deck project will suffer many changes, and you'll have to replace the material with a better option.
How would it be if you wouldn't have to worry about the structural integrity of your home and outdoor living space?
Steel offers durability and a great deal of resistance to any structure. It won't warp, twist, or shrink with time, meaning its shape and quality will remain unchanged for many years.
In addition to this, knowing you are building a safe home for your loved ones makes the investment worth every penny.
Other Benefit Of Steel Framing
Advantages Of Steel Deck Framing
A steel framing system is the overall better option when it comes to framing a deck.
Steel Will Outlast The Deck Boards
Today, the surface of most decks are TREX decking boards, other composite decking material, or PVC deck boards. They provide great UV and moisture-resistant properties that protect the deck's flat surface from the weather.
For that reason, installing a deck board meant to last 25+ years on a lumber frame that deteriorates in less than 10 is a bad decision.
A steel deck framing offers commercial-grade strength and lasts longer than a traditional lumber frame. Because steel does not warp, the sturdy frame profiles remain straight and true over time.
You can give your outdoor living space the structural firmness of skyscrapers. As a result, your deck will stand the test of time, and your loved ones will enjoy it for many years to come.
Metal frame decks are safer than lumber frames
Lives are on the line if your deck structure fails.
Building your deck with a metal frame ensures you avoid dangerous deterioration that damages the integrity of your deck. Wood is susceptible to rot and decay from water, fungi, and pests.
Even if treated, wood still needs to be maintained and looked after. You don't want to worry every time you hear creaking sounds underneath your deck's surface. Besides, replacing a damaged piece from the frame takes a lot of work and time.
A steel framing for your outdoor living space will ensure the safety needed when you gather all your loved ones for a barbecue.
Steel Is Easier To Design
A steel-framed deck is much easier to design to match your needs and lifestyle.
Lumber is challenging to bend properly without losing its quality. You risk weakening it or even breaking the pieces.
Metal framing works with any decking and all kinds of designs.
The Disadvantages Of Metal frame decks
The main disadvantage of steel framing is its tendency to rust if not properly coated and maintained. In addition, steel is a more expensive framing material than lumber.
The cost of metal decking varies, and several factors impact it.
As with most commodities, the cost of steel fluctuates.
The prices will fall between $3.00 and $6.00 per square foot. Make sure you request a quote to find exactly how much material you need and how much you'll need to budget for your deck-building project.
Gauge - The Thickness Of The Steel
The thicker the steel material, the more the metal deck will cost.
There are different gauges on the profile type: 22 GA, 20 GA, 18 GA, and 16 GA.
The smaller the gauge number, the thicker the steel. This means that a 16 Gauge is thicker than an 18 Gauge, and an 18 Gauge is thicker than a 20 Gauge.
| Gauge | Deck Weight | Price Per Square Foot |
| --- | --- | --- |
| 22 | 1.9 pounds per square foot | $6.00 - $7.50 |
| 20 | 2.3 pounds per square foot | $7.00 - $9.00 |
| 18 | 2.9 pounds per square foot | $9.50 - $10.75 |
| 16 | 3.5 pounds per square foot | $11.00 - $12.50 |
Finishes of the Metal Deck
There are mainly two types of galvanized metal finish.
There are different profile types of the metal deck. They vary from around $6 to $15.
Special types of steel like cellular or acoustical have a longer lead time and cost more per square foot. In addition to that, they are custom-made after each decking project.
Evolution steel deck framing, for example, is a smart galvanized steel design exclusively for deck projects.
Here at Hankins Decks, we are ready to offer you the best decking project at affordable prices.
Metal frame decks are growing in popularity due to their longevity and low maintenance requirements.
Although wood framing remains the traditional choice for decking projects, steel is a better alternative, thanks to its versatility. Steel has a great strength-to-weight ratio, making it a perfect option for a strong decking frame.
It makes a comfortable fortress out of your outdoor living space that will stand the test of time. Besides, steel gives your deck an elegant appearance that makes it stand out from any other deck in the neighborhood.
Here at Hankins Decks, you get the best experts in Olathe, Kansas. You'll have your project taken care of by professionals, and your deck will look just like you envisioned it. Our simple process makes it easier for you to start working with us right now!
Call us today and make sure your outdoor space meets your expectations!