The most popular questions my customers ask when we first meet always have something to do with low-maintenance decking.
And it should come as no surprise.
After all, you want to enjoy relaxing on your new deck instead of spending your days cleaning, sanding, and staining it.
In this post, we'll discuss your options for a complete ultra-low maintenance deck.
Low-maintenance decks are more than just composite decking.
Most homeowners are familiar with what composite decking is, even if they don't have one. They know composite decking looks great for many years and that it's a low-maintenance decking option. 
Composite decking is a big player in the low-maintenance decking industry, but there are more ways to make an outdoor space as maintenance-free as possible.
The decking is not the only element of a deck.
Railings are not optional. If you want your deck to be as safe as possible, railings are mandatory. Maybe not so important for decks a few inches above the ground, but clearly a must for most decks.
When it comes to railings, composite is one of the most popular choices. Composite railings go excellent with your composite decking and often have a similar warranty.
A composite railing is similar to a capped composite deck board and comes in many color options. The posts are usually made of a sleeve that slides over a 4″ x 4″ wooden post. As a result, the composite railing often has a bigger, "beefier" look.
Another popular option here in Kansas City is aluminum railings.
Aluminum railings look similar to a wrought iron railings or fencing. These rails feature aluminum construction that never rots or rusts. Besides, they have a lifetime warranty.
Aluminum railings provide options from 2″ – to 4″ and come with various color options, so these railings go great with any of your decking choices. In other words, if you have a deck with a mesmerizing view, aluminum railings will be perfect.
These are also a great choice because their baluster sizes are smaller than that of composite railings.
Last but not least, an option usually overlooked by most contractors and homeowners alike is the subframe. The "bones" of your deck, if you will.
While pressure-treated lumber is still the most popular choice for a deck frame, there are alternatives that last way longer exist.
Steel framing is a relatively new concept for deck builders and home builders too. Although steel deck framing has been around for about ten years now, popular decking manufacturers just began producing them.
As with any project, the end product depends a lot on how well everything is laid out. It's the same with building a deck. A great outdoor space starts with a great structure.
Unlike wood joists, steel joists are completely flat and have no imperfections. This results in a perfectly flat deck with no humps or dips. Although we minimize imperfections as much as possible when using wood, sooner or later, flaws will start appearing.
If you were wondering if you could use an old decking frame, check out our article about it!
The more low-maintenance options you decide to incorporate into your deck, the easier it'll be to upkeep.
Not having to spend your time replacing rotten wood or staining your deck is every homeowner's dream.
Compared to traditional wood decks with lumber frames, these decking options might be more expensive. But the price doesn't sound that terrible when you consider the money you'll save on replacements, stains, pressure washing, and decking repair services.
An investment like this will actually bring a higher ROI than getting a traditional deck. And what's even better is that you won't have to stress over keeping your low-maintenance deck in shape.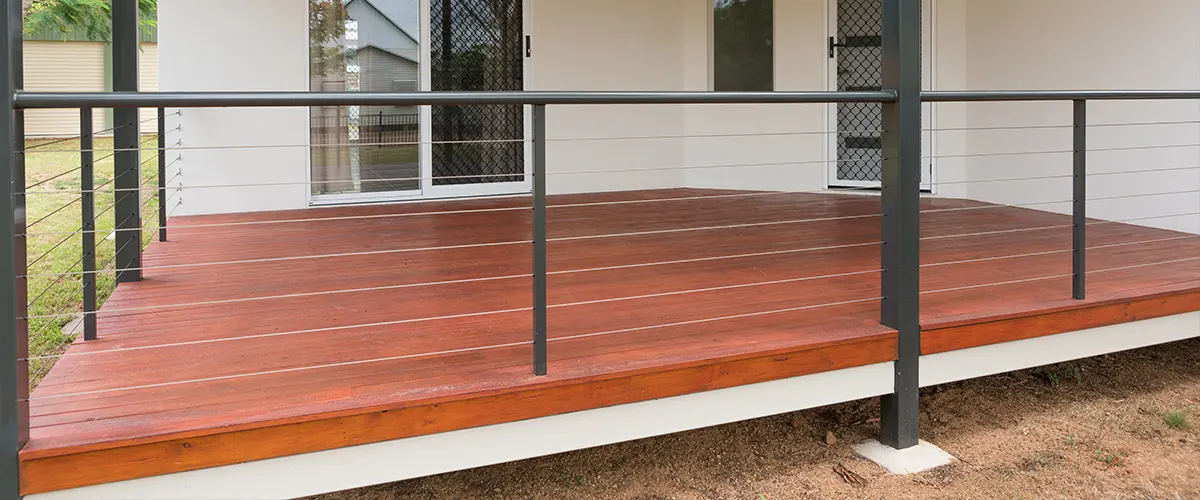 If you're sick and tired of cleaning, sanding, and staining your wood decking, now you have the alternative. 
You decide if you want to spend more time enjoying your deck instead of maintaining it.
If you're starting to consider a zero maintenance decking or you want to find out more about your decking options, we're making it easy for it.
Our expert deck builders from Hankins Decks provide the best cost-effective solutions for your decking options. We'll find the perfect option that fits your budget, style, and needs.