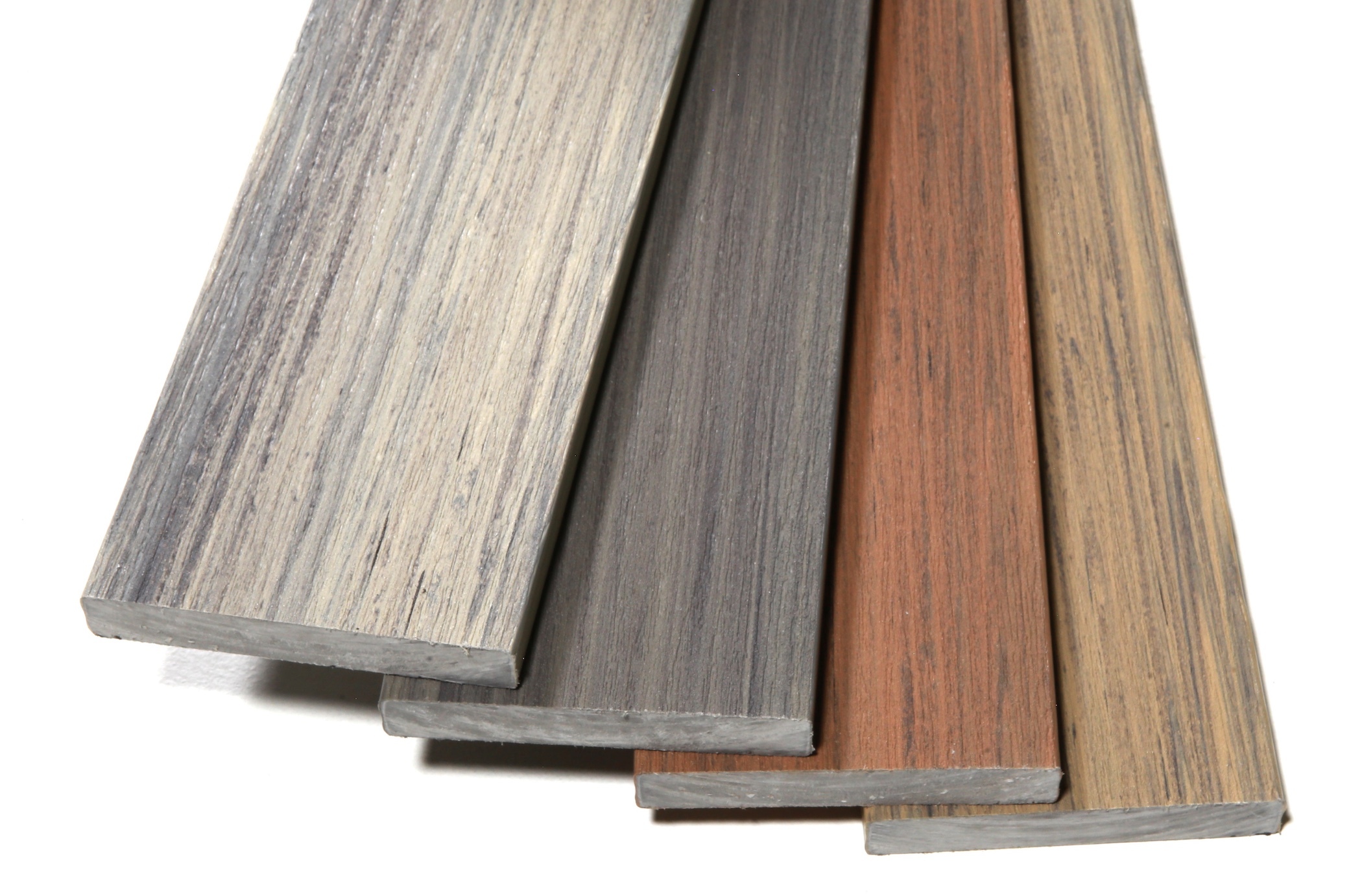 Composite Decking VS. PVC Decking
Although we do offer beautiful wood decks, man-made composite and PVC decking has become more popular now than ever. Trying to decide between colors, brands, materials, fastening systems, and other choices can become a bit overwhelming. Hopefully this page can help answer some of your questions, and help you become familiar with the products we offer. Please feel free to contact us with any of your decking questions.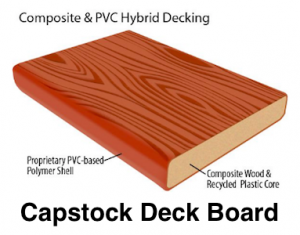 Composite Decking has come a long way from when it was first introduced to the building industry in the 1990's. Composite deck boards are made up of a mix of sawdust, plastics and glue. The majority of the board is made of recycled materials, making composite decking a very "green" and environmentally friendly choice in decking.
Most of the composite decking used currently, and the only kind Hankins Decks offers, has a cap stock protecting the outside of the decking. This cap stock has revolutionized the composite decking industry. This cap stock is a layer of polymer, or other hard material, that is bonded to the composite deck board. This outside layer helps to prevent scratching, fading, and rotting, meaning your deck will stay looking beautiful for many years to come. Most capped composite deck boards are covered by a 25-year manufacture limited warranty.
The biggest advantage to composite decking is the low maintenance aspect of the material. Unlike wood, you never have to stain your composite decking. Composite decking is slightly more expensive up front, but this cost is easily offset from the added maintenance a wood deck requires. By not having to stain your new deck, you will save thousands of dollars over the life of your composite deck. Usually a quick wash once or twice a year will keep your deck looking great for many years.
PVC decking is another great option if you're looking to get away from the headaches of a wood deck. Although these boards are often grouped in with composite decking, they are in a group of their own. PVC Decking has a slightly higher cost than composite, but instead of having a core made up of different materials, including saw dust that does eventually begin to rot, PVC decking is made up of only plastic. While composite decking may not rot for 20+ years, PVC decking will never rot or decay.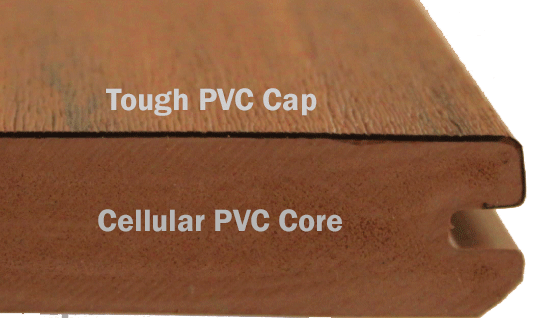 The more low maintenance options you decide to incorporate into your deck, the easier your deck will be to upkeep, and the less you will have to spend on replacing wood rot and staining. Often times, the extra up-front costs that these options may have compared to traditional wood decks will be quickly recouped in yearly maintenance savings. Ultra-low maintenance decking products will actually save you money throughout the life of your deck, as you no longer have to worry about the costly maintenance of rotting boards and re-staining your deck every year.
PVC deck boards are usually cooler to the touch than like colored composites, so they are often easier to walk on in bare feet. They also cool down much quicker than composite decking, which tends to hold the heat for long periods of time.
Although there are some exceptions, composite decking is usually cost less than PVC decking.
PVC deck boards are extremely light weight, where as composite decking is very dense and heavy.
Both composite and PVC decking are resistant to water, mildew, mold, and rot. Both are great choices when considering a new deck
PVC decking will never rot, splinter, split, warp, or decay like wood. The wood in composite decking will eventually start to break down, but you will have many, many years of maintenance free enjoyment before that happens.
Whether you chose PVC or composite deck boards, you can feel confident that you have made a great upgrade to your old wooden deck. If you would like more information on the decking that we offer here at Hankins Decks, please visit our Products website by clicking here.