If you're looking for new fencing options for your home, you've more than likely come across PVC fencing.
PVC fencing is growing in popularity among homeowners. They offer low initial and ongoing costs and require little to no maintenance needs. It is quick to install, attractive to look at, and you can find it in different shapes and sizes to perfectly match the rest of your home.
In this guide, you'll discover everything there is to know about PVC fencing costs and what will impact their price. We'll cover the pros and cons of PVC fences, as well as how they'll improve the aesthetics of your sweet home.
Let's dive in!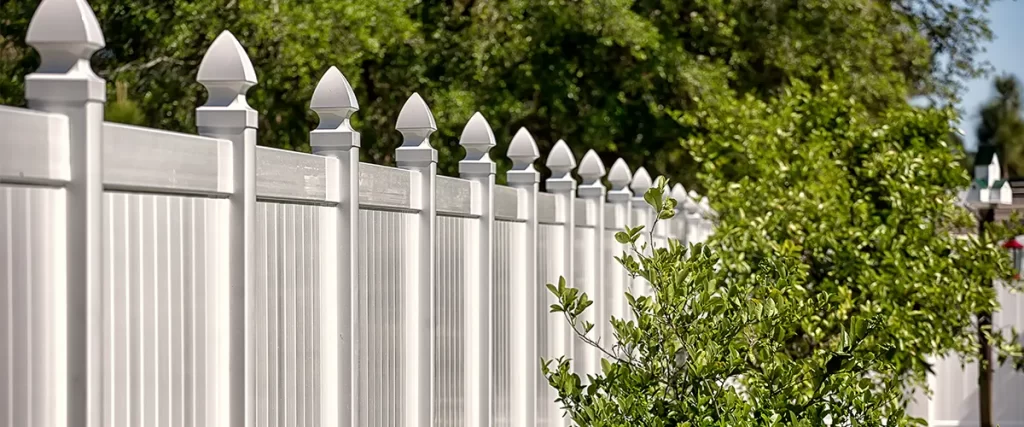 PVC Fencing And Vinyl Fencing
Vinyl is commonly used as a shorthand name for polyvinyl chloride (PVC) plastic. It is used in a multitude of projects, from flooring to siding to wall covering.
When a product is referred to as "vinyl" it is comprised primarily of PVC.
Occasionally, it may also refer to polyvinylidene chloride (PVDC), a closely related compound. However, in chemistry, the term "vinyl' has a broader meaning.
In addition to PVC, "vinyl" in building materials include:
PVC Fencing Price Per Linear Foot
The average cost to install a PVC fence per linear foot is approximately $15 to $40, including labor and materials. Material cost ranges between $10 and $30 per linear foot, while labor costs about $5 to $10 per foot.
Most homeowners spend around $2,848 to $5,696 for both materials and professional installation.
Most vinyl fences tend to be 4 to 6 feet high and can be as high as 12 feet. The installation cost increases with the height. Expect to pay more if the ground is hilly, bumpy, or rocky, as fixing these issues will require more labor and professional machinery.
PVC fencing is incredibly easy to install because all components are made to fit together easily. Posts are often reinforced and should be set 600mm to 900mm deep and set in concrete.
Average Cost For PVC Fencing In Olathe, Kansas
The cost to install PVC fencing starts at $22.73-$33.42 per linear foot in Olathe, Kansas.
The total price for labor and materials per linear foot is $29.24, coming in between $23.67 to $34.80.
A typical 125 linear foot project costs $3,654.58, with a range of $2,959 to $4,350.
Your actual price will depend on your location, job size, conditions, and finish options you choose.
Here at Hankins Decks, you'll get an accurate estimate after the on-site visit. We created a simple and straightforward process exclusively for you. Get yourself the best PVC fence in Olathe, Kansas, and a memorable contracting experience with your local fencing experts.
Generally, PVC gates to match your fence costs between $300 to $1,500 to install, on top of the entire fence installation price.
Large gates with decorative elements may cost up to $3,000, depending on the design, quality, and other details.
Match your gate to your fence for a harmonious look that ties everything together and makes the transition from one area to another seamless. However, we recommend leaving the installation of PVC gates and vinyl gates to professional fence contractors.
Costs Of Different Types Of PVC Fences
All types of PVC fences have different characteristics and designs that will impact the final price of your fencing project.
Below are the most common PVC fences and the associated costs.
The average price for the installation of a PVC picket fence is between $15 and $20 per linear foot. For example, for a 200 linear feet project, you will spend about $3,000.
The most common fence height for both back and front yards is 4 feet tall. This height is perfect for keeping children and pets safe inside the enclosure, keeps out other animals, and clearly marks property lines.
However, if you're looking for privacy, a picket fence 4 feet tall will not be your best choice.
The price of PVC picket fencing or vinyl picket fences will increase with height and the total linear feet of the project.
Privacy fences are about 6 feet tall, and they cost around $25 to $60 per linear foot.
Basic designs are the most affordable, but they are also simple. If you want taller fences with more decorative elements, the cost will lean towards the high-end.
The most popular decorative options include horizontal patterns, lattice effects, and criss-cross patterns that give the perfect environment for climbing plants to grow.
Taller privacy fences also obstruct noise, helping you keep a quiet environment. Privacy fences are efficient in preventing lousy neighbors from peeking through the fence. Besides, they keep your kids and pets safe in the enclosure.
Although pricey to install, they are worth every penny because of their benefits.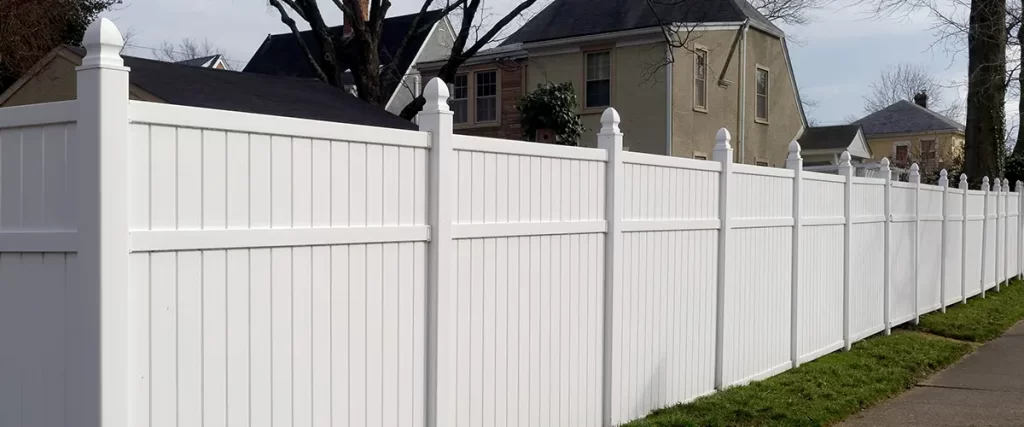 The cost to install a shadow box PVC fence ranges between $25 and $40 per linear foot.
This type of privacy fence keeps your kids and pets within the property and keeps off intruders. Several designs will offer extra privacy, but they come at a cost. A trellis, for example, costs about $6 per linear foot to install.
Rail fences are some of the most affordable options when it comes to fencing in general. They cost between $15 and $25 per linear foot, and the overall cost ranges from between $1,500 to $7,500, depending on its length.
You've seen this type of fence most often on large fields where farmers keep their livestock from straying away from the property. That's why it's also referred to as a horse fence. It is a simple design of posts connected by two or three rails.
It's great to define boundaries, but not so great when it comes to privacy.
PVC Fencing Price By Color
Colors and appearance will also affect the costs of your fence.
White PVC fencing is the most affordable, with prices ranging from $15 to $30 per linear foot. It is also the most popular, and perfect for homeowners on a budget, who still want a high-quality fence.
It is a simple and beautiful design that enhances your home's visual appeal, which is important when it comes to selling your property.
The average cost to install a wood grain PVC fence is around $25 to $40 per linear foot.
Wood grain panels vary between $100 and $230 for 8-foot wide sections. Wood grain fences cost almost double the other fences because of the unique surface texture that makes them resemble real wood while keeping the properties of PVC.
If you want a rustic look but do not want to install a wooden fence, a wood grain PVC fence will be an ideal option.
Installing a black PVC fence may set you back by about $35 to $60 per linear foot.
Black PVC fences are not as common as other options, making the material more expensive. For instance, one 6-foot high and 8-foot wide black panel costs around $370, while other colors cost between $100 and $285 per panel.
PVC fencing has many advantages that make it the best choice for your home. Benefits of PVC fencing include:
Although PVC fencing initially costs more than timber, this material is a more cost-effective option in the long run. Over a 20-year period, a PVC fence won't need repainting or treatments like wood does.
PVC fencing is low maintenance. Cleaning it is done is seconds with just a wet rag. It stands up to saltwater much better than other fences, and has a great resilience to UV rays.
The main downside of PVC fencing is that extreme cold can cause the PVC to warp.
Other possible negatives can include:
Vinyl fencing is a type of fence made from PVC (polyvinyl chloride).
A vinyl fence costs $2,181 to $6,089 to be professionally installed. The national average vinyl fencing cost is about $4,135, and the high-end vinyl fence pricing can get up to $12k.
However, vinyl fence installation costs will depend on:
But there is more to vinyl fencing than that. Its costs are affected by the fence design, colors, the gate you'll want, the terrain, and permits.
PVC fencing is increasingly growing in popularity among homeowners, and for good reason.
The average cost to install a PVC fence per linear foot is approximately $15 to $40, including labor and materials. This may seem like a lot at first, but when you consider the benefits of PVC fencing, you realize the investment pays off in the long run.
If you're interested in learning more about PVC fencing or want to get started with your own installation project, be sure to get in touch with our team of experts. There are plenty of regulations that you need to be aware before starting on your own.
At Hankins Decks we value your time and your project gets our full attention. You'll get the easiest contracting process in your area, and your experience with us will make you want to upgrade your home even more!
Call us today and work with professionals on your upcoming project!