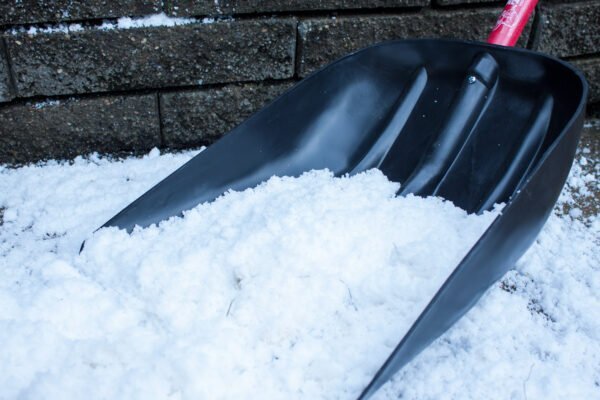 What Is The Best Way To Shovel Snow From Composite Deck?
Before reaching for the shovel, if your deck only has a little snow that's light and fluffy, you may be able to use a push broom to just broom off the snow. With a broom, you know you won't risk any damage to your decking. Another zero-risk option that works extremely well is a leaf blower. With a light snow up to a couple inches, a leaf blower works great for removing snow at a fast rate.
When you have enough snow that a push broom or leaf blower won't cut it, the first thing you'll need to do (if you don't already own one) is purchase a plastic snow shovel. One with no metal blade on the end that can scratch your decking. I prefer a plastic or poly grain scoop type shovel. They are easily found at your local big box stores, farm and feed stores, and online. They also, unlike many plastic snow shovels, don't have the metal blade on the bottom.
When shoveling you want to make sure you shovel with the decking. This ensures you won't accidently catch your shovel between one of the gaps between the decking. Depending on how much snow you have, you can either push the snow or scoop, just like you would on your driveway. Just remember, shovel lengthwise with your decking.
Whenever shoveling snow, be sure to take breaks, stay hydrated, and don't over do it. If it's a bigger task than you feel you can handle, don't hesitate to hire a snow removal company to do the job.