When it comes to fencing, there are many options to choose from. Some are more budget-friendly, while others may require you to dig deeper in your pockets. Right now, we'll discuss the vinyl fence costs and how they fluctuate.
Vinyl is growing in popularity, and for a good reason. It's affordable, long-lasting, and low-maintenance.
When buying a vinyl fence, many factors go into the overall cost. While the price of materials may not be too different from one to another, installation costs can vary greatly depending on your location.
In this blog post, we'll take a look at how much you can expect to pay for a vinyl fence in 2022.
We'll provide some valuable tips on keeping costs low and what to look for when installing your vinyl fencing. Keep reading and find out how much you'll have to budget to upgrade your backyard's privacy!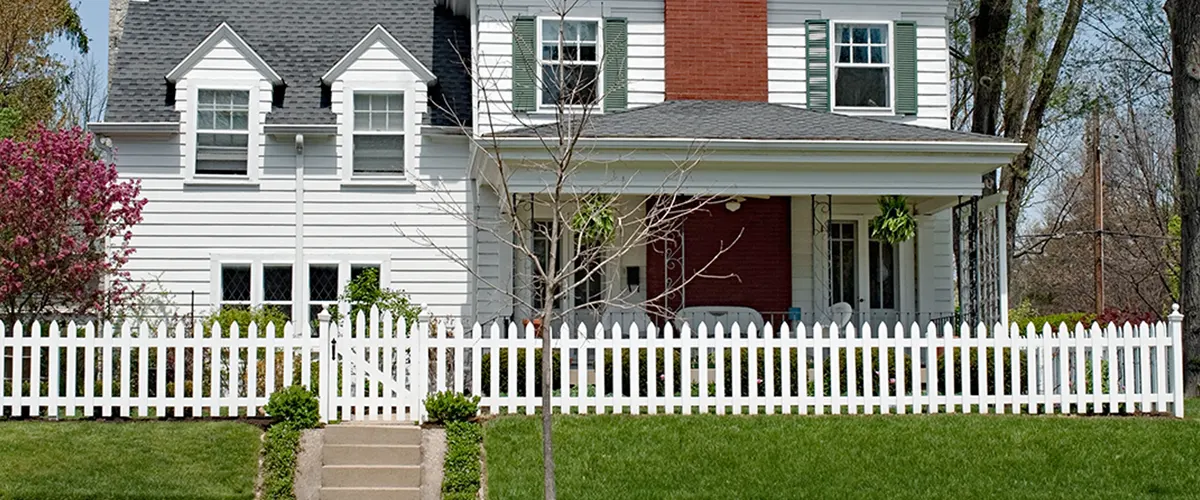 Vinyl fencing is a fence made from PVC (polyvinyl chloride). It is becoming increasingly popular due to its many benefits. It is affordable, durable, and low-maintenance. The multitude of vinyl fence styles allow you to find one that perfectly matches your home's aesthetic.
However, vinyl fencing can also get expensive. Homeowners pay anywhere between $2,181 to $6,089 for a professionally installed vinyl fence, with a national average cost of about $4,135. The average high-end vinyl fence pricing can get up to $12k.
But there is more to vinyl fencing than that. Its costs are affected by the fence design, colors, the gate you'll want, the terrain, and permits.
Cost Of Vinyl Fencing Per Linear Foot
Most professionals charge for vinyl fencing installation by the linear foot. This means that size will be the first and most important aspect that will impact the price of your fence.
On average, homeowners around the US pay around $17 to $38 per linear foot.
Here at Hankins Decks, we offer accurate quotes after our on-site consultation. Your professional vinyl fence installers will help you find exactly how much to budget. Get in touch with us today and fully control your project!
With the average price per linear foot we mentioned, let's see some average prices per square foot.
Other Factors That Impact The Price
You'll also have to choose between different styles for your fencing. A tall privacy fence will ensure no one sees what's going on in your backyard, but if you want to showcase a decorative element, vinyl picket fences will be perfect.
Depending on why you need a fence, the overall style you want for your home, and how good the land where you're building the fence is, your total cost for vinyl fencing can be higher (or lower) than what we mentioned before.
Here's what else impacts the price of vinyl fencing:
There are many different designs to choose from when it comes to vinyl fencing. Find a style that perfectly matches your home's aesthetic and vibe.
Some of the most popular designs include:
An affordable style like split-rail fencing will be around $20 per linear foot, while a design with more complexity, like a shadowbox style or a picket fence, runs at $35 per linear foot.
Different colors will influence the cost of your vinyl panels.
The most common vinyl fencing colors are solid white, solid black, and wood-grain styles (they replicate real wood).
While plain white is the cheapest vinyl fence at about $25 per linear foot, black vinyl fence is the most expensive at $60 per linear foot. Wood-grain vinyl falls somewhere in the middle at about $40 per linear foot.
Vinyl fence gates will add to the costs because they are a different fence component. The gate itself, installation, and hardware will add to the total costs anywhere between $318 to $1,172.
Of course, you'll want a vinyl gate to match the rest of your fence and your home. Although gates come in different shapes and sizes, you'll need to budget a little extra for a gate if you need a particular one.
For example, a $1,172 gate is a custom, high-end automatic driveway gate that is more than enough for most homeowners.
It takes more time and materials to install a taller fence, so the height of your fence will also impact the price.
That price difference is simply the result of larger vinyl panels costing more and smaller vinyl panels costing less.
Installing a vinyl or PVC fence on an inclined terrain will take more time and work, and as a result, it will cost more.
Depending on the steepness of your property's land and the position of the fence, contractors may need to level the ground to install your fence properly.
If you don't want to build your fence on a steep slope, budget an extra $1,500 to your budget for land grading.
Some cities ask for building permits; some don't.
In any case, our experts at Hankins Decks take care of obtaining the permits, making the entire process smooth and stress-free. We include the permits fee in the final quote, so you'll know how much to budget and for what.
Permits are anywhere between $20 to $400, mainly depending on your fence size. You can find more about building permits in Olathe, Kansas here.
If you have an old fence that needs to be removed, that will add to the overall cost of your new vinyl fence.
The contractor will charge by the hour for labor, and it usually takes a few hours to remove an existing fence. You can expect to pay anywhere from $50 to $200 for labor costs.
In addition to fence removal, there may be extra charges for the disposal of the old fence. It generally depends on where you live and what kind of regulations are in place. Generally, you can expect to pay around $50 to have the old fence taken away.
Be sure to budget for removing large trees, boulders, bushes, and other obstacles.
Vinyl Fence Cost Per Panel
The cost to install a vinyl fence depends on the costs of your vinyl fence panels.
One way to install a vinyl fence is by using panels 8 feet long. On average, for a 6-foot tall fence, white vinyl panels cost between $100 and $230.
However, the price of a vinyl fence panel depends on its color.
For example, vinyl panels that resemble wood will cost between $200 and $350. Black panels can cost between $280 and $500, but they will bring a luxurious feel, perfect for a modern home.
It's important to remember the costs of vinyl fence posts that divide the panels. These can cost $10 to $200 and beyond, depending on the seller and if they are reinforced with another material.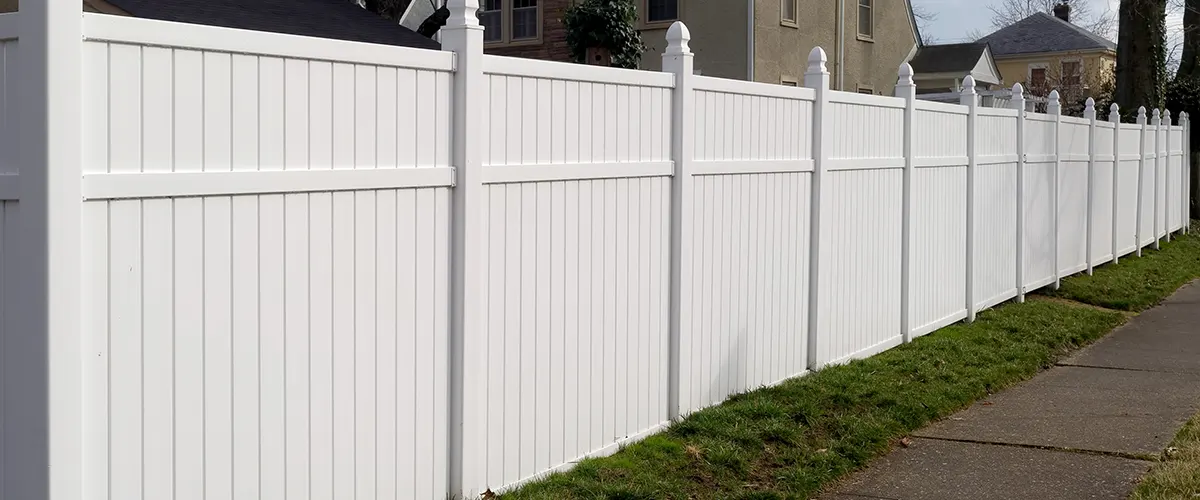 How Many Vinyl Fence Panels Are Necessary
How many vinyl fence panels you need will depend on the enclosure's size and the panels' length.
The most common vinyl panel lengths are 6 feet and 8 feet. Although 6-foot panels may seem like a cheaper option than the 8-foot panels, they will cover less ground, meaning you'll have to get more of them.
For example, to complete 100 linear feet of fencing, buyers will need between 16 and 17 six-foot-long vinyl panels. For the same 100 linear foot enclosure, buyers need 12 to 13 eight-foot vinyl panels.
Vinyl Fence Cost vs. Wood
While vinyl fencing ranges from $17 to $38 per linear foot installed, wood fences cost around $12 to $27 per linear foot.
Many homeowners choose cedar for their wood fence installations because of its durability and resistance. When comparing cedar vs. vinyl fence costs, cedar materials average $6 per linear foot, and vinyl privacy fence materials average $27.5 per linear foot.
Vinyl Fence Installation Cost
The average cost for labor to install a vinyl fence is around $4.68 per linear foot. It includes preparation, professional installation, cleanup, and a warranty.
If you need to remove an old fence first, expect to add $3.50 per linear foot to your final price.
However, labor costs will depend mainly on the fence contractor you choose to work with. Find a company with transparent pricing that offers accurate estimates for your project.
At Hankins Decks, we value transparency and aim to make your contracting experience effortless. You'll get our full attention and dedication so your end project can be just what you envisioned from the start.
If you're interested in getting vinyl fencing for your home, the average cost is between $17 and $38 per linear foot.
Yes, you will pay more for vinyl fencing, but with that higher cost comes more convenience, durability, and long-term saving.
According to national average prices, a vinyl fence installation costs approximately $2,181 to $6,089. If you want to install a vinyl fence yourself, you'll spend about $4,000 on tools and materials, but the time you'll need to invest, and the frustration of getting your building permits will be way more expensive.
Your vinyl fencing needs to be professionally installed, so it's best to hire a contractor to ensure your project goes smoothly and the fence is structurally sound.
Hankins Decks offers professional vinyl fencing installation in Olathe, Kansas. If you're looking for a reliable team to take on your project, call us today, and let's get started!