If your fence has seen better days and wear and tear are starting to show, fixing it will be a way more affordable option than replacing the entire fence.
If the issues are minor, like a split wood plank, loose nails on your fence pickets, or just colors faded out, you may be tempted to try and fix it yourself. DIY is sure to give you a sense of pride and boost your confidence when the repair turns out good.
However, some problems might need the expertise and tools of a professional contractor. DIY-ing an extensive repair could end up making the problem worse.
In this blog post, you'll discover how to fix a fence professionally. With the right tools and instructions, you can have your fence looking as good as new in no time.
We'll cover everything from basic repairs that you can do-it-yourself to more complex issues that require professional contractors.
Let's dive in!
A few common culprits cause a fence to lean. Most of them appear as your fence gets older.
A fence made from vinyl panels or one that doesn't allow air to move through it is the most susceptible to leaning. The lean may begin after a strong wind blows into your fence, putting more pressure on the fence than usual.
Leaning could also start when a growing tree or other object pushes against it. Trees can grow, pushing a fence and destabilizing it over a long time.
If your fence is leaning, first inspect the lean center – the most affected part of your fence.
If your post is wood and placed directly in the ground, without anything to sustain it, the damage is severe, and you'll need to take out the entire fence to fix it.
If the leaning angle is not as serious, you can do a quick fix that can save your fence.
Dig around the old post, straighten it, then backfill with compacted rock or even concrete for more stability.
Unstable fence posts usually happen when they are rotten or not placed correctly in the ground. As mentioned above, it can also happen when strong winds hit a fence that doesn't allow airflow.
Wood posts tend to rot when they are not treated. When the wood is exposed to concrete, wet dirt, and water for a long time, these will damage the material irreparably.
That's one reason our experts at Hankins Decks recommend using stronger material for posts, like metal or stone. A rotten post requires experts to fix a fence professionally, so don't undertake this project by yourself.
Fix a fence unstable post
To replace an unstable post, you'll need to begin by detaching surrounding pickets and fence rails from that post.
If the post is placed directly in the ground, you should be able to pull it out with a little help and some more digging. However, if the post is set in concrete, you'll need professional tools to get it out.
A rigid new post that stands firm in concrete should not cause any wobbling or leaning of your fence. Make sure the post is perfectly vertical in the ground. After that, you're ready to start reassembling the rails and panels.
Fences with panels that don't allow airflow are the most troublesome.
They are more challenging to fix or replace, but they have other benefits. They provide a great deal of privacy in your backyard and are safer for pets and children.
However, a few issues could appear on your fence panels.
Fix a fence cracked panel
A cracked panel can happen to vinyl fences as well as wood fences. The force of the wind can easily make panels blow over during severe weather conditions.
This issue has a quick and easy fix that you can do yourself with only a few tools. If the panel that blew over is still good, you can use that one. If not, we recommend getting a new panel that will fit and match the rest of the fence.
You can nail the panel back on the railings or screw it for increased firmness.
Loose panels usually mean two things: rot or decay.
Wood panels are the most common material affected by this, as wood rots and decays if it's not treated and maintained regularly.
Get a new wood panel that matches the rest of the fence, predrill holes, and screw it to the railing. Ensure the entire wood surface is treated with stain and water sealer so you avoid costly expenses down the road.
If your fence is wooden, it's inevitably fading and losing its color. This can be a real eyesore, but there's an easy fix: paint or stain the panel to bring the color back.
Make sure you use a weatherproof sealant to help protect the wood from the sun and rain. This way, you'll help keep the color looking fresh for years to come.
Fence gates begin to wobble and hang loose with time and frequent use.
Fasteners begin to loosen slightly. The hinges might not be as good as they were on the first day. And rain, heat, and cold will cause the metal to shrink or expand, moving the nails or screws in place.
Metal will rust, and it becomes harder to open or close the gate when this happens. An even more unpleasant situation is when the gate creaks and makes sounds every time you use it.
Although this can be a simple DIY repair, here at Hankins Decks, we've seen hundreds of gates that were "repaired" poorly in the past. There are wrong hinge screws, poor wood preservatives, broken panels, or just bad maintenance and installation.
Although this issue can get more serious with time, it is an easy fix at first.
Replace the hinges with new ones and treat them for rust. Proper treatment ensures a long-lasting material perfect for outside use. Besides, you get a gate that opens and closes without any difficulty or sound.
When reattaching the gate, lift it and square it up, so it's even.
Luckily, there are some simple kits on the market to fix a sagging gate. In most hardware stores, you'll find hinges, screws, and treatment for the metal.
How To Stain And Seal A Fence
Stain and seal prolong the life of your wooden fence and ensure it looks good for years to come.
The protection offered by a high-quality stain helps in many ways:
A coat of stain or paint will increase the curb appeal of your home and bring back the color of your wood fence.
Look for a proven, self-leveling, oil-based stain that doesn't show runs, streaks, or overlaps to make staining go smoother.
Before you start staining or other treatment on your wood, clean your fence with a power washer, as this will ensure no dust or debris is left on the panels.
Stain can be either rolled on or sprayed on the wood panels. They both have different advantages, and some might prefer using a roller, while others will go for a pump-up sprayer.
Pets Digging Under The Fence
If your dog digs under your fence, you can fix the fence or address a behavioral issue at some point. In the meantime, you can create a physical barrier to prevent or discourage digging.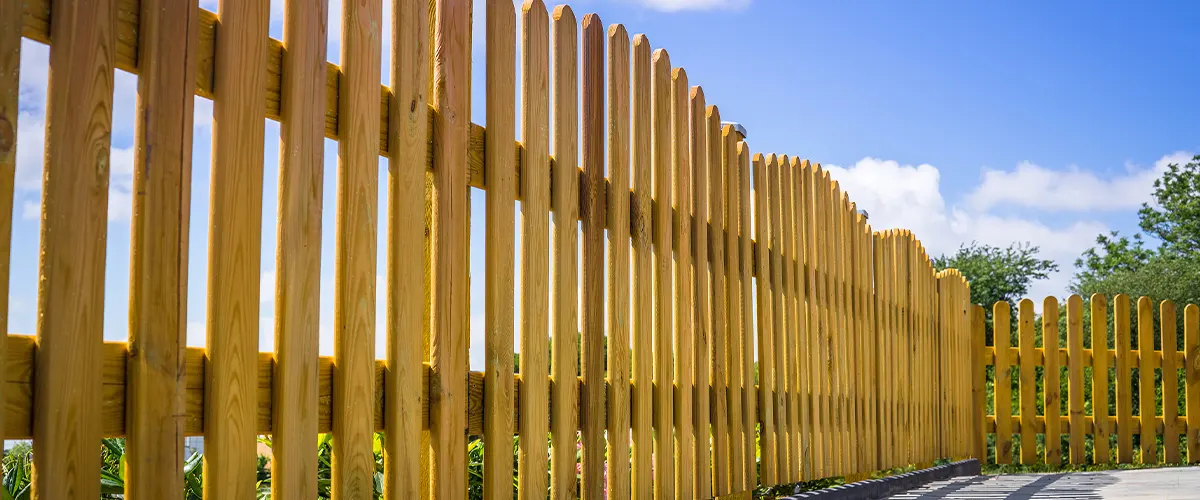 Manage Landscaping And Trees
One aspect many homeowners fail to consider is the entire landscaping of their yard. Trees and bushes can grow adjacent to your fence and cause serious issues to it.
If your fence sustains a tree branch, it will harm the structural integrity and stability of the fence, making it wobble and bend with time.
In addition to that, roots that grow beneath the ground can reach the post hole, push the wood, and cause severe damage to your new fence. Any vegetation that touches the fence can lead to rot and serve as a breeding ground for destructive pests.
Keep in mind to set your sprinkler head further away from the fence so it doesn't spray water directly on the wood. You'll help reduce the moisture and humidity, making your wood fence less susceptible to rot and the mildew "halo" that you see on other fences.
Frequently Asked Questions
If you have a fence that needs some repairing, you can repair some of the small problems yourself with minimum skill.
However, if the problem is more severe than just fixing some boards or painting, we recommend hiring a contractor. An expert can fix a fence professionally at an advantageous cost, so you don't have to do this time-consuming chore. Fence contractors have the proper tools and experience to get the job done quickly and correctly.
Contractors will check if there are any specific regulations in place for fences in your area. Otherwise, going back and forth with papers to get a building permit will take weeks, and your time is more precious than that.
Here at Hankins Decks, we invest our time and skills to get our customers' best end product. You get a straightforward process where you know how everything will happen and when. Transparency is key, and we want you to have the best contracting experience in Olathe, Kansas.
Call us today, and let's work together to get you the best fence in the neighborhood!