Fences have always been the preferred method of ensuring privacy and deterring unwelcome guests from stepping on your lawn. Whether you're looking to keep your dog inside the yard or you want to stop other people from stepping on your lawn, you're sure to find a fence style and fence material that will do that for you.
However, the variety of materials can make your decision exhausting. Each has its advantages and disadvantages, so picking the perfect one for your needs and lifestyle is important.
You need to think about the climate, your landscape, your budget, and most importantly, why do you need a fence in the first place?
In this post, we'll take a look at the best fence materials for homeowners in 2022. We'll discuss the pros and cons of each material to help you make an informed decision that will ensure your project turns out as envisioned.
Keep reading to get a fence that will meet your needs and serve you for years to come.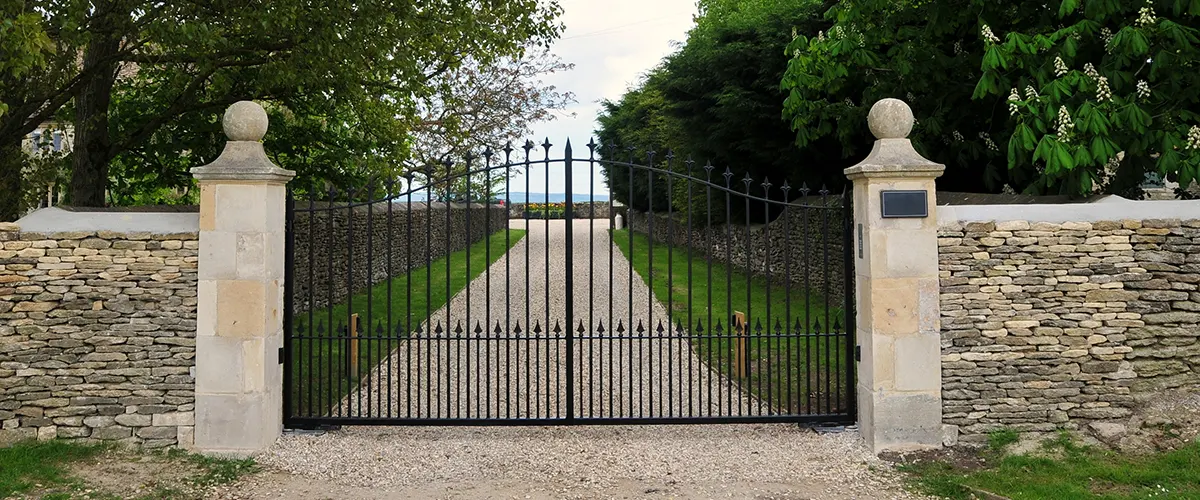 Cedarwood is a popular choice for fences because of its natural resistance to rot and decay. It's a beautiful wood fence that adds value to your property. Cedar is softwood, so it's easy to work with and can be stained or painted to match any color scheme.
One downside of cedar is that it can be expensive, and it doesn't hold up as well to pounding from wind and rain as some of the other materials on this list.
If you choose a cedar fence, install it in a concrete base or secure it to treated posts. Keep in mind the installation is not entirely DIY-friendly, especially if you want the extra stability from a concrete base.
You can customize cedar planks to create various styles, including saddleback and lattice-topped.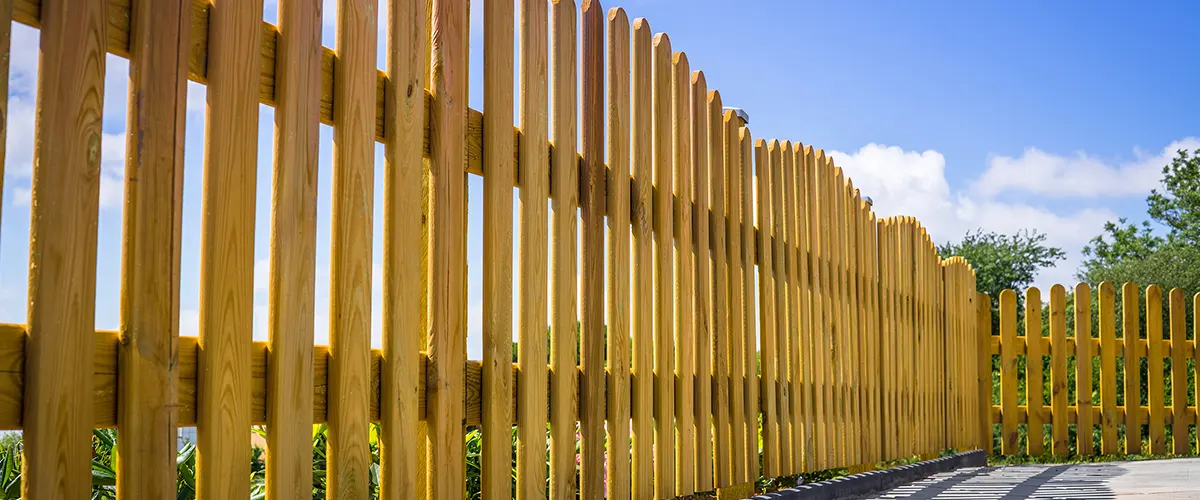 Cost Of Cedar Fence Materials
Cedar material costs $18 to $35.00 per linear foot, not including hardware, posts, and footings. Cedar fencing costs on average $7 to $12 per linear ft to be installed around your home.
Cedar fencing is more expensive than Vinyl fencing and slightly more than a typical board-on-board fence. Besides, you'll spend some extra money on treating cedar against rain or termites.
Installation cost is dependent mainly on property conditions and the scope of work for the fencing project.
Vinyl fencing is a popular choice for homeowners because it's affordable, durable, and easy to maintain. They come in various styles, so you can get the perfect fit to match your home and needs.
One downside of vinyl fencing is that the color can fade over time if not properly taken care of. It can quickly become not as beautiful as other materials on this list. However, you can paint and pressure wash your vinyl fence to return its former glory.
Vinyl fences are still an excellent option for those who want an affordable, low-maintenance fence.
TIP: If you're looking for a vinyl fence, choose a style that allows air to flow in between the planks. Good airflow makes a vinyl fence hold up better against wind and rain. Vinyl panels that don't allow air to pass through can break or bend with time.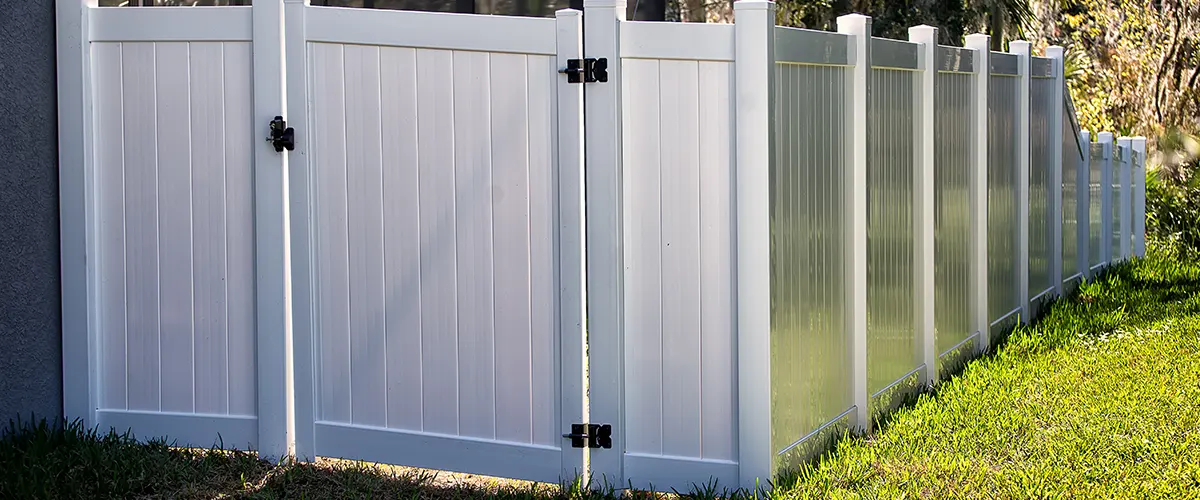 Cost Of Vinyl Fence Materials
The size will be the first and most important aspect that will impact the price of your vinyl fence.
Homeowners around the US pay around $17 to $38 per linear foot to install vinyl fencing.
Keep in mind that different fence parts like gates or posts caps will add to the final price.
Composite fencing is a combination of materials, such as wood and PVC.
This fencing material is durable and low-maintenance, making it a popular choice for homeowners. You can paint or stain composite fencing to match any color scheme. Besides, it won't rot, decay, or rust.
But the most important aspect of composite fencing is that it has a natural wood appearance that gives your home a traditional feel.
If you're looking for an attractive and durable fence that doesn't require much maintenance, composite fencing is a great option.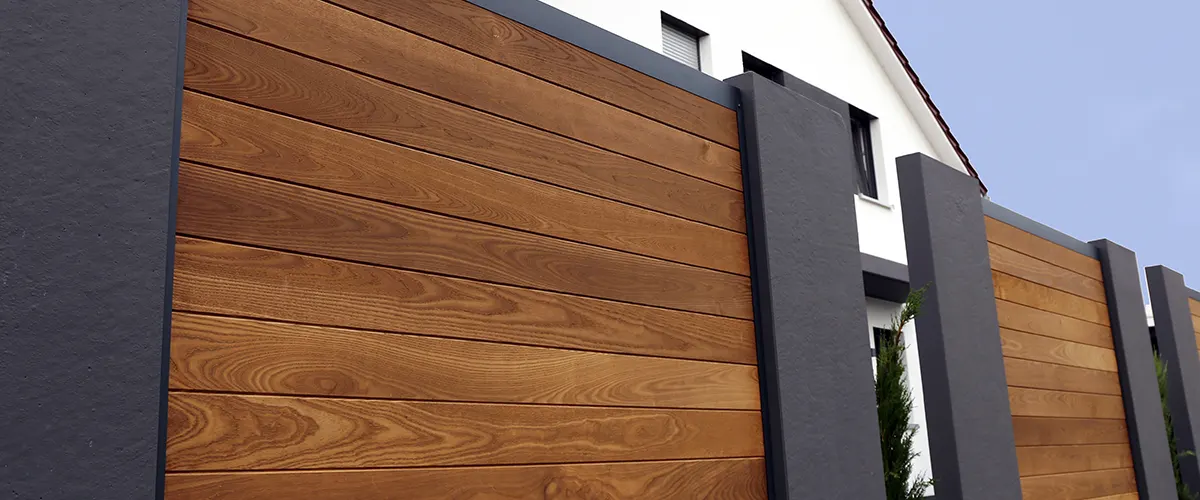 Cost Of Composite Fence Materials
Compared to cedar, vinyl, and even bamboo, composite fencing is fairly expensive.
However, the trade-offs are worth the extra penny: minimal maintenance and excellent wear.
The materials' quality, the heigh of the panels or planks, and the type of fence impact the total costs of installing composite fencing. Picket fencing, for example, requires less material than privacy fencing or shadowbox fencing. As a result, a picket fence costs less per linear foot.
Here are some approximates on composite fencing costs:
Redwood is an excellent choice for fence material because it is durable and natural. Teak, just like redwood, is yet another natural choice for fencing material.
Both are durable and have a beautiful grain that emphasizes the natural look of wood. Teak and redwood are resistant to decay, insects, and sun damage.
These materials require a penetrating sealer or oil once or twice a year so their color won't fade as fast. A light sanding before application removes the surface weathering and cleans the board.
Although they are more expensive than other fencing materials, they are worth the investment. Because they're expensive, redwood and teak fences are usually limited to small areas:
Cost Of Redwood And Teak Fence Materials
For a bit over 200 linear feet project, installing a redwood or teak fence will be anywhere between $5,225 and $10,450.
At a minimum, homeowners can expect to spend $14.26 per square foot on redwood fencing. The maximum reported price per square foot for redwood fencing is $20.50. The average cost for redwood fencing is approximately $17.49 per square foot.
Metal fencing is an excellent option for homeowners because it is durable and low-maintenance.
Wrought iron fences have survived centuries of style changes, and with good reason: More than simply classic, they're highly durable.
Metal fences are resistant to weathering and rusting, making them a great choice for homeowners who live in harsh weather climates.
These enclosures tend to be custom-made to fit the property and even include decorative patterns.
The only downside to metal fencing is that it can be expensive compared to other materials, and you'll need a professional company to take care of the installation.
Installing a metal fence requires extensive knowledge and tools. The fence posts need to be placed in concrete, and working with metal generally requires skill. Hire a specialized fencing contractor if you're looking to incorporate the traditional appeal of wrought iron into your property.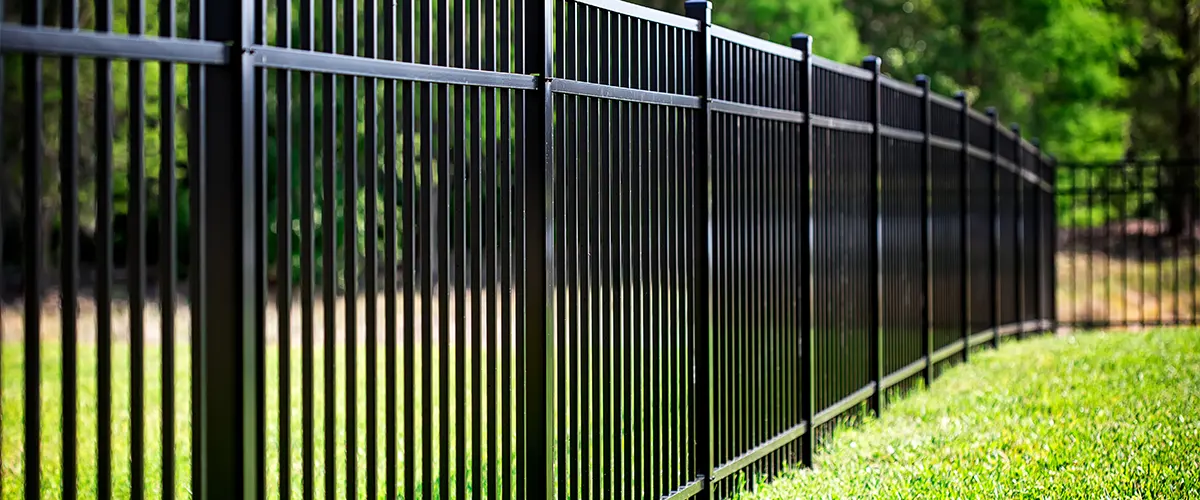 Here at Hankins Decks, we take care of everything for you. You're guaranteed to have a straightforward process with us and a memorable contracting experience that gets you the best fence in the neighborhood.
Cost Of Metal Fence Materials
The cost of metal fencing depends on the material used. Aluminum and steel cost the same, but wrought iron is substantially more expensive.
The average cost per linear foot for metal fencing is $15-$75. Labor averages $8 to $40 per foot for the installation. Expect the pricing to go up if you're looking for ornamental designs or metal gates for your fencing project.
However, prices will depend on the metal you choose.
A masonry wall is a structure made of bricks, blocks, or stone. Masonry walls are strong and used to create fences, retaining walls, and even buildings.
These materials are pricey and require professional installation. Because of their weight, masonry fences need a solid structural footing poured below the frost line (the depth to which the groundwater in soil freezes).
Mix masonry with another fencing material, like wrought iron or wood to create a beautiful design and save money.
If a simple picket fence can be a DIY project, a masonry wall will require the expertise of a professional contractor. Block and poured concrete require steel reinforcement and professional tools to do it properly.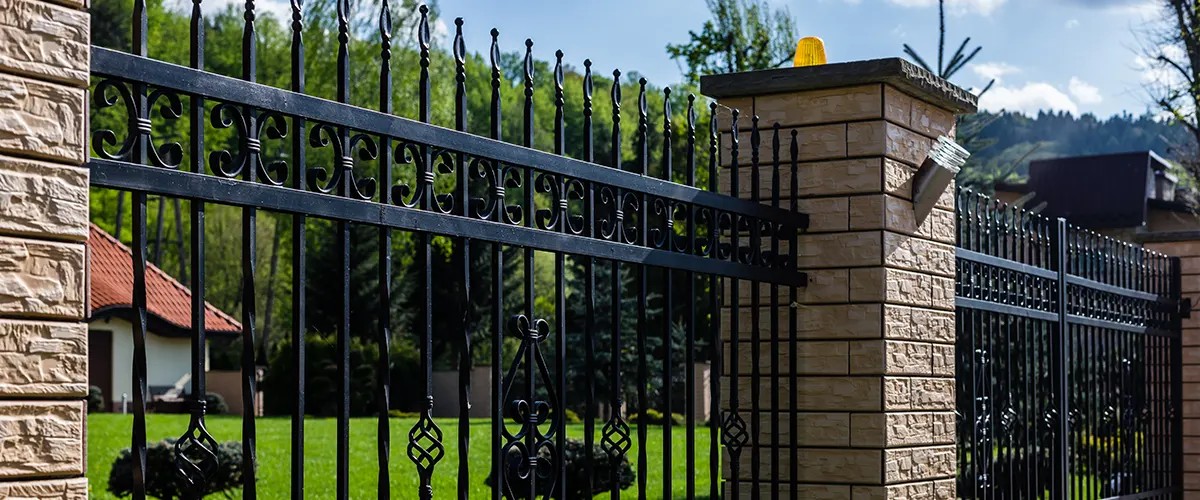 Cost Of Masonry Fence Materials
The average cost to build a brick a stone wall is $3,000 to $9,000, or $80 to $480 per linear foot. Depending on the thickness and style, a brick wall or fence costs $15 to $45 per square foot. And a stone wall costs $20 to $75 per square foot.
A 50′ long stone fence costs $3,800 to $8,800 on average. A masonry fence costs $25 to $35 per square foot installed, depending on the size, stone type, and installation method.
Get in touch with your local home improvement shop and see if they have any offers for stones. Contractors usually have access to more discounts and extra supplies, so get in touch with one to get the best options available.
Chain link fences are a popular and affordable option for homeowners. They are easy to install and maintain and provide a secure enclosure for pets and children.
This fence is made of metal and comes in various heights and colors. You've seen them often used as security fences around schools, prisons, and other government buildings. Commercial spaces also use this fencing material.
They don't necessarily improve the aesthetic of your home, and their open links don't do much for privacy. However, chain link fences offer security for pets and kids at a competitively low cost.
This fence has an easy-to-DIY installation. It involves digging and setting posts, installing a top rail, and stretching linked mesh between the rails and posts. This DIY installation saves homeowners on a tight budget more money to invest in something else in their homes.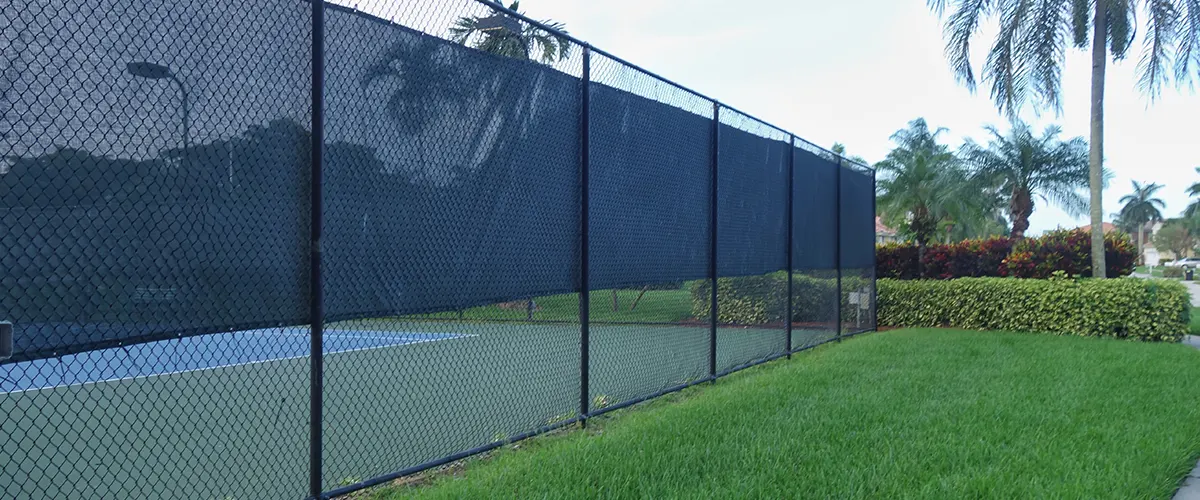 Cost Of Chain Link Fence Materials
The materials are among the least expensive fencing options available.
This type of fence is a common choice for large rural yards, where the amount of fencing needed makes other options incredibly expensive.
Homeowners around the US pay between $1,241 and $5,194 to install a standard chain-link fence (including professional labor costs). The average overall price is around $3,218.
Most fencing contractors will charge for fence installation by the linear foot, with an average rate of about $23 per linear foot for chain-link fencing.
Depending on a few factors, your rate could range between $12 and $33 per linear foot.
Barbed wire fencing is a type of fencing made of metal and has sharp barbs or points along the strands of wire. It's commonly used to prevent people or animals from crossing a boundary.
You've seen these fences delimitating land in large fields or used on top of a chain-link fence for added protection. Barbed wire fences are often used for security reasons around schools, prisons, and other government buildings.
Another use of barbed wire fencing is to create safe enclosures for livestock in areas where wild animals represent a problem.
Barbed wire fences are not very aesthetically pleasing, but they are affordable and secure for homeowners. They are easy to install and maintain and are great to keep trespassers away.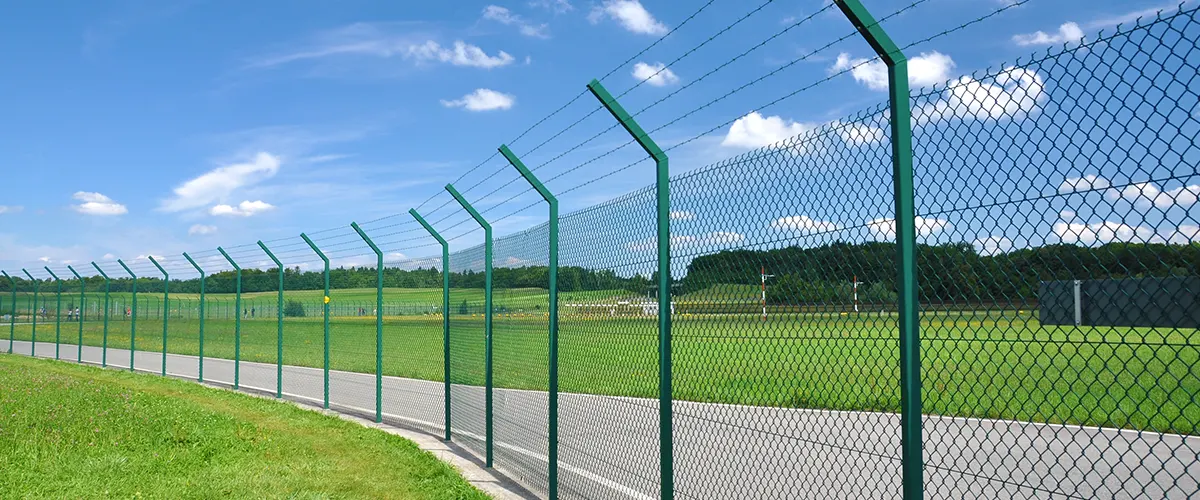 Cost Of Barbed Wire Fence Materials
The price for barbed wire ranges from $0.03 to $0.08 per foot, or between $60 and $110 per standard, for a 1,320-foot roll.
Exact costs will depend on the type, thickness, and quality you choose, as well as the number of strands, or layers, you'll need.
The labor cost for installing a barbed wire fence is around $16.50 to $20 an hour. A three-strand barbed wire fence installation for a 1,320-foot fence will take 39 to 50 hours. This rate brings the total labor cost to between $643.50 to $1,000.
A fence is the first line of defense for you and your loved ones. It's an important addition to any home. It keeps your loved ones safe and secure, provides privacy, and improves the look of your property.
There are many types of fencing materials available, so it's important to choose the one that will bring out the best in your home. Remember that different materials will bring a unique vibe to your home.
Our experts at Hankins Decks provide valuable insights for different types of fences available, as well as their benefits and drawbacks. We are the fencing specialists in your area that get you the best fence for your home.
Your time is valuable, and that's why we strive to exceed your expectations and provide the best fencing options online.
Call us today and improve the safety of your home with the best fence for you!