If you're like most homeowners, you've probably thought about adding a deck to your home at some point. Decks are a great way to add extra living space and value to your home, not to mention they're a lot of fun! And with so many builders popping up all over the place, it's easier than ever to find one that's right for you. But how do you choose the best one? What should you look for? If you wver wondered "Are there any reputable deck builders near me?" it's time to find the answer.
In this blog post, we'll discuss how to find and choose a deck builder near you. We'll talk about what to look for when selecting one, and we'll take a look at the different types of decks they typically build. So whether you're just starting to explore the idea of adding a deck to your home or you're ready to begin interviewing builders, this post is for you!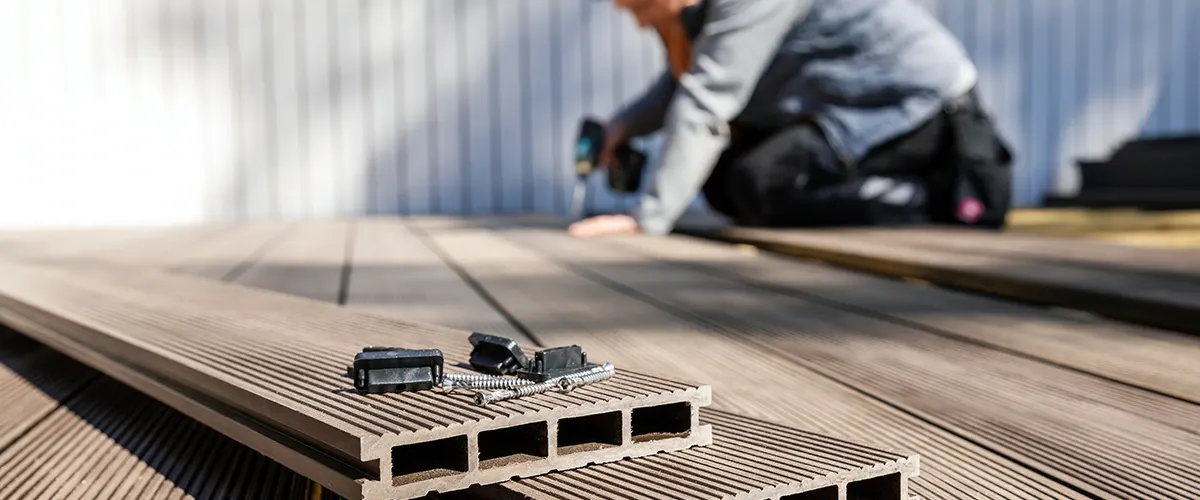 Extra Living Space And Value
Decks are a great way to add extra living space and value to your home. Not only do they provide a place to relax and enjoy the outdoors, but they can also be a great investment. According to recent studies, decks can add up to 10% of the value of your home!
If you're thinking about adding a deck to your home, now is a good time to do it. Many builders are busy during the spring and summer months, so it's best to start planning and interviewing builders now.
How To Choose What's Right For You?
There are many different types of decks, each with its unique benefits and drawbacks. So how do you choose the right one for you?
One of the best ways to choose a deck is to think about how you plan to use it. If you want a deck for entertaining, then you'll want one that's large and has plenty of space for guests. If you're mostly interested in using your deck for relaxing, then a smaller deck with fewer features might be a better fit.
You'll also want to think about your lifestyle and what you like to do outdoors. If you love spending time in the sun, then a deck with lots of sun exposure might be perfect for you. If you prefer to relax in the shade, a shaded deck might be a better fit.
Finally, you'll want to consider the climate in your area. Decks exposed to harsh weather conditions (such as rain and wind) can require more maintenance than decks located in milder climates.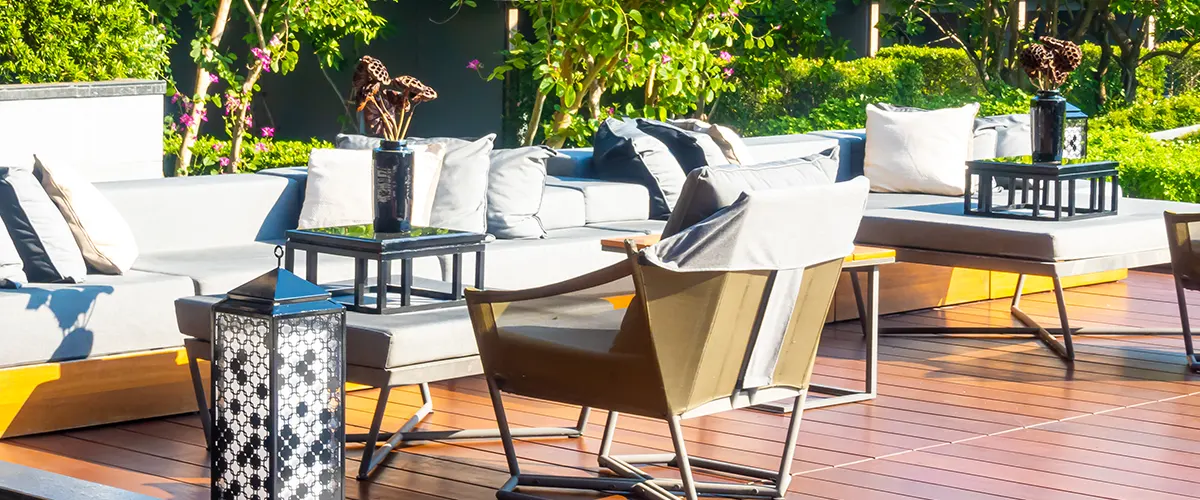 Now that we've covered some of the basics on how to choose a contractor let's take a look at some of the different types of decks that are popular today and which most of them are using for decking.
Wooden decks are one of the most popular types of decks, and they come in a variety of styles and sizes. You can find wooden decks from many different types of wood, including cedar, pine, and redwood.
Composite decks are another popular type of deck. Composite decks are made from wood and plastic, making them resistant to weathering and insects. They come in various colors and styles, making them a popular choice for homeowners who want a unique look for their deck.
Paver decks are another option to consider. For firm deck surfaces, many homeowners use pavers as they are a durable type of brick. They come in various colors and styles, and they're popular among homeowners who want a unique look for their deck.
Finally, decks are made from other materials such as stone, tile, or concrete. While these decks aren't as common as decks made from wood or composite materials, they can be an excellent option for homeowners who want a unique look for their new deck.
How To Find Deck Builders Near You?
The first step in finding a deck builder is to figure out where they are. Chances are, there's one near you – but how do you find them?
One way to research builders near you is to use a search engine like Google or Bing. Simply type in "deck builders near me," and a list of local businesses will pop up. You can also use websites like HomeAdvisor, which allow you to search for contractors by location, targeting even the popular cities.
Once you've found a few builders in your area, the next step is to start evaluating them. This can be a little tricky, as there are many things to consider! But don't worry, we'll break it down for you.
What To Look For In A Deck Builder?
When looking for a local deck contractor, you should keep a few key things in mind. Here are a few of the most important:
Experience
One of the most important things to look for in a deck builder is experience. Ask how long they've been in business and check their portfolio to see examples of decks they've built.
Licensing and Insurance
Make sure the deck builder you choose is licensed and insured. This protects both you and the deck builder in case something goes wrong.
References
Ask the deck builder for references from past clients. This will give you a better idea of what their work is like and if they're a good fit for your deck project.
Portfolio
Take a look at the builder's portfolio to understand the type of services they offer and what kind of outdoor living space they build.
When interviewing builders, be sure to ask them about the following:
Different Types Of Decks Contractors Build
Not all builders build the same type of decks. Some specialize in a particular type, while others are more general. Here are some of the most common types of decks:
Wooden decks are the most popular type of deck, and they come in a variety of styles and designs for your yard. Professional builders typically use either cedar or pine for wood decks, both resistant to rot and decay, adding a traditional feel to your backyard
A composite deck is made from a mix of wood fibers and plastic resins, making them durable and long-lasting. They're a popular choice because they're low maintenance – you don't have to worry about paint or a stain and seal project to protect your outdoor living space.
PVC decks are made from polyvinyl chloride (PVC). They're durable and water-resistant, making them a good choice for decks that get a lot of use.
Aluminum decks are another popular option, as they're lightweight, durable, and corrosion-resistant.
How To Choose The Right Builder For Your Project?
So now that you know a little more about the different types of decks builders build, how do you choose the right one for your project? Here are a few tips:
In this article, you've learned about decks and how to choose the best contractor for your project. Deck builders build decks from various materials, including wood decks, composite decks, aluminum decks, PVC decks, and more.
To decide which type is right for you—and get an idea of what each will cost–be sure to talk with deck builders in person. Deck builders near you can be found in a variety of ways. You can use the internet, friends, or even home improvement stores to find a contractor that's right for your project.
When interviewing deck builders, it's essential to ask about their experience with the different types of decks and what kind of warranty they offer. By doing so, you should choose the one that's best for your needs and budget. Have you started interviewing deck builders yet? If not, reach out HankinsDecks for a quote today!