If you're looking for deck building in Overland Park, you're in the right place!
We've been helping homeowners like yourself with their decks for over 13 years now. Your changing needs and preferences are at the core of our work because we know this is what makes your experience satisfying.
Hankins Decks' goal is to give you your own outdoor space where you can kick back with your loved ones over a barbecue and a good laugh.
With us, you'll get more than a deck!
A Deck That Comes With Extra Benefits
Here's what's in for you:
Uplift Your Property with The best deck building In Overland Park
Decks are spectacular outdoor spaces that promote relaxation and peace of mind.
Because spending time outdoors is proven to improve your health, at Hankins Decks, we aim to transform your outdoors into a space that helps you escape from the mundane.
Especially in Overland Park, where bird watching is an everyday activity among homeowners, decks are the ideal upgrade to offer a unique experience.
But even if you're not into bird watching, a deck around a pool or an elevated deck with a view is all it takes to transform a simple day into an unforgettable memory.
Overland Park Homeowners Love Their New Decks!
Matt was awesome to work with. We had him screen in our deck recently. Super quick on quotes and communication. Very thorough and detailed. Keeps you in the loop. He got to our project ahead of schedule. Price was very fair and we feel like we got everything we wanted.
We've spent everyday the weather will allow, sitting out on our screened in deck. We would absolutely recommend Hankins Decks and will use them for any future projects.
The team at Hankins Decks did a fantastic job replacing our old deck. Although they were not the cheapest quote we received, the details Matt shared with us showed his vast knowledge of his craft. It was an easy choice for my wife and I to trust them to see our job through.
The outcome was even better than we both imagined, and their craftsmanship shows throughout the entire deck. We will be sure to recommend your team to every one.
What Deck Are You Looking For?
The type of deck you want for your outdoor space will greatly impact its functionality and total cost.
Let's see some popular upgrades homeowners get for their deck building in Overland Park.
Composite decking is by far one of the best choices for decking. Composite decking boards require little to no maintenance. They look great and are resistant to insects and rot (common issues with decks).
They are more expensive upfront, but in the long-term, you'll save a lot more money to invest elsewhere in your home.
Steel frames are not yet as popular as we would like them to be, and it's a shame. Most serious deck problems start from the wood frame. Rot, for example, is the most dangerous problem, and it usually remains underneath the wood, not visible on the outside.
It weakens your deck's frame and can ultimately result in its collapse. Safe to say that a steel frame will never have rot or termites issues, making it the best option for a safe and sound deck.
Wood remains the traditional material for decking boards but is slowly losing ground in favor of composite decks.
Although we don't recommend wood decks that often anymore, they still bring a higher ROI than composite and are much more affordable.
Cedar is a popular wood used in decks, but for a more upscale look, ipe, mahogany, or redwood are great alternatives.
As we mentioned earlier, elevated decks are super popular in Overland Park's bird-watching community. But not all homeowners choose them for this reason.
Elevated decks offer an upscale look for your outdoor space and make it even more relaxing. It's easier to find a nice view when you have the higher ground, and these decks are ideal for that.
The railing is mandatory for elevated decks, as per the building code. They help make your deck as safe as possible but will also finish the look of your new structure.
For railings, aluminum is the best option you can get these days, followed by composite railings. Wood is a viable option but will rot and need repairs more often than the other options.
Here's What Your Project Can Look Like
Check out some of our projects and see what your deck can look like!
Deck Building In Overland Park Got 10x Easier
If the only thing stopping you from getting a new deck was the process of getting it up, you're saved!
At Hankins Decks, we put your underlying needs first. Rest assured your experience with us will be a pleasant journey with minimum stress and no anxieties!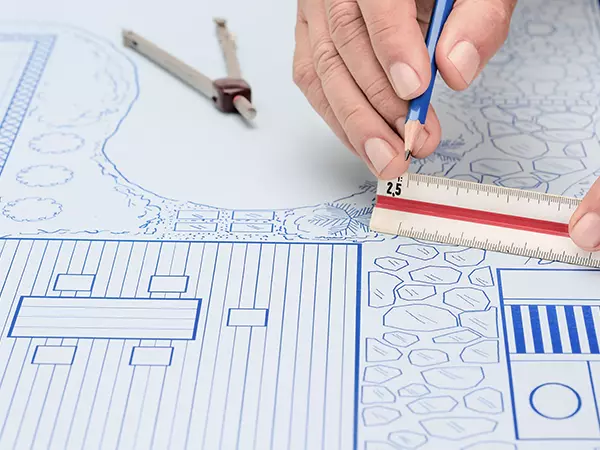 Get in touch with us, and let's come up with a plan for your project.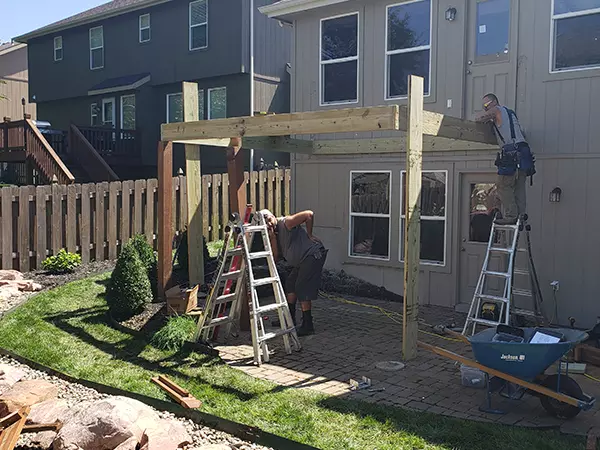 We get to building. You can watch your new deck rising to the top.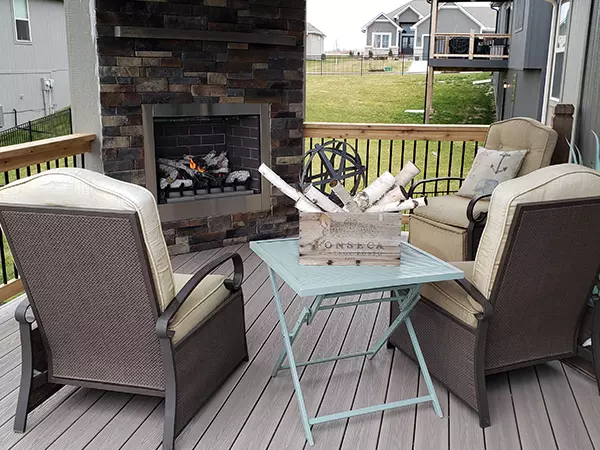 Your new deck is ready to host the best barbecue ever!
Deck Building In Overland Park: A Case Study
A deck building in Overland Park, KS, turned out better than our customer ever expected. We had a 258 square feet structure to work with, and the framing was the main issue.
This project included:
Before
After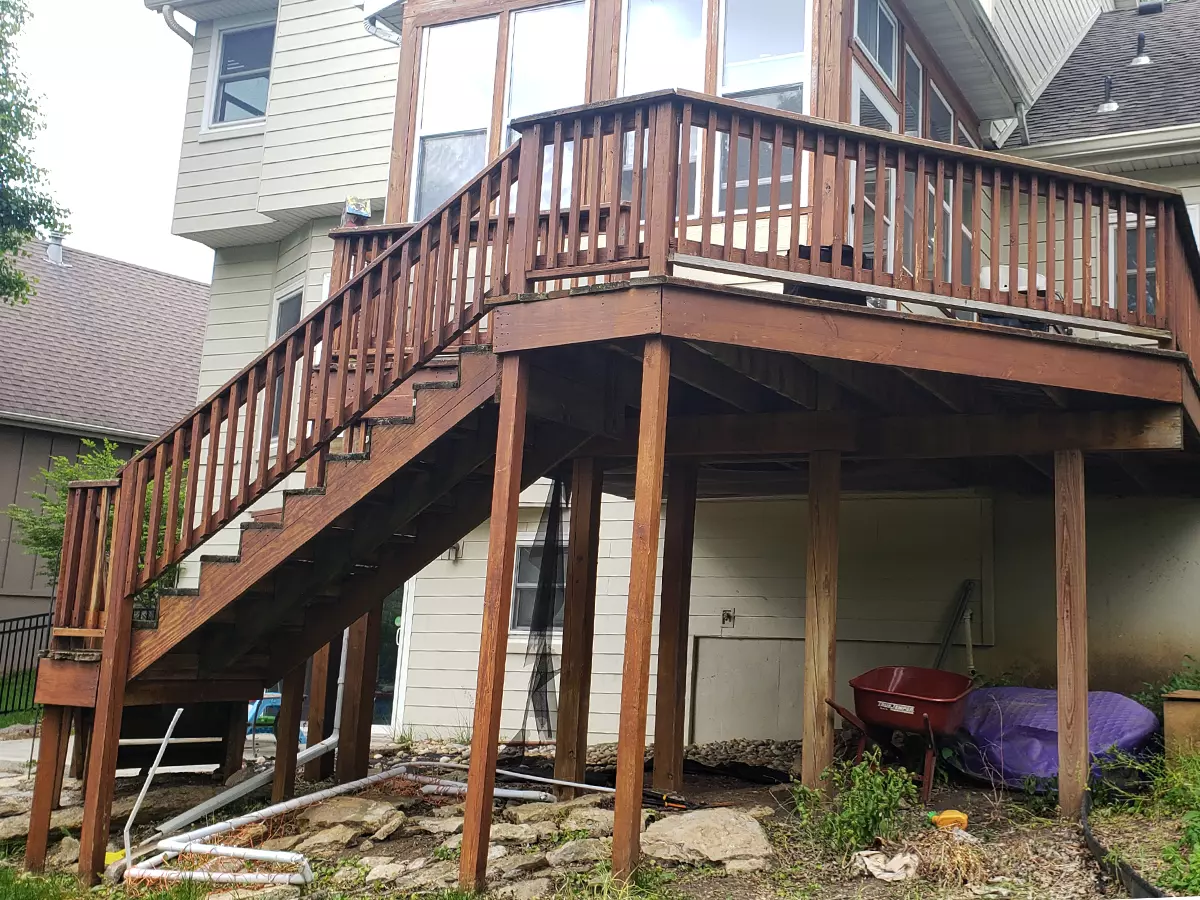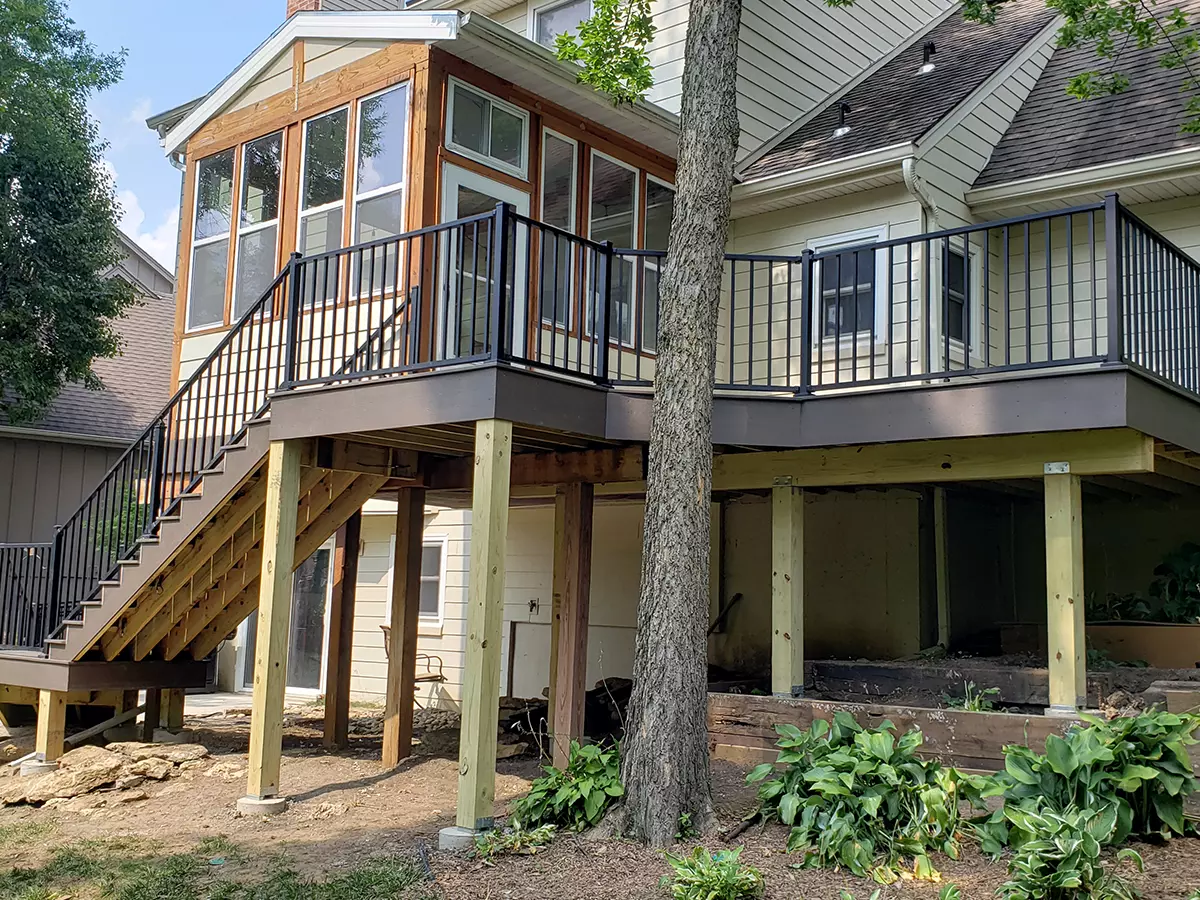 The posts were fragile for such a big structure and were placed directly in the ground (a common issue with older decks). We replaced them with sturdier Grade 1 treated lumber and placed them in concrete.
We quoted this deck building project at $33,720. The stair wrap and lights came in at $12,700.
Frequently Asked Questions
Let Hankins Decks Overland Park Get You The Best Deck
At Hankins Decks, we realized that putting you at the front and center of our company works to everyone's advantage.
Our simple process, transparency, and communication ensure you're getting a smooth deck building experience.
In the end, it's all about you and getting you and your family the perfect deck to create the best memories.
Get A Deck That Leaves Everyone In Awe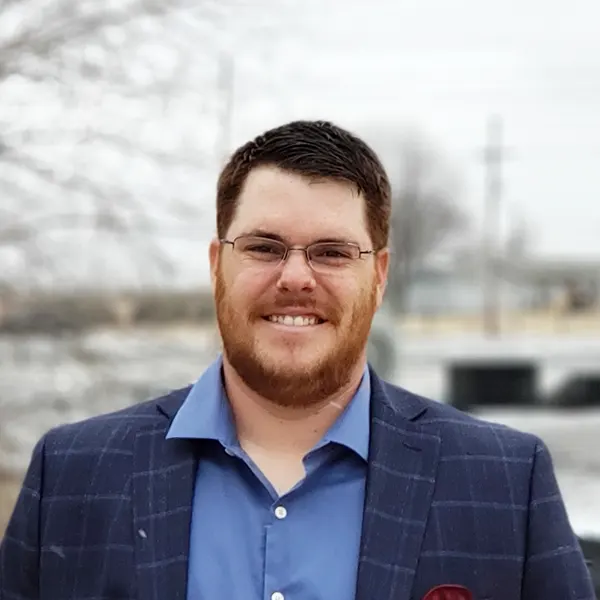 Click the button below to request your free quote, or get on the phone with Matt Hankins, the owner of Hankins Decks, today! Call (913) 703-3257 and let's discuss your upcoming decking project!