Chain link fencing installation is a great way to keep your property secure and safe. This type of fence is economical, tough, and requires very little maintenance over the years. But before you can install the fencing, you need to know how to do it properly.
In this comprehensive guide, we will walk you through every step of the installation process so that you can feel confident in your ability to install a chain-link fence on your own property!
Types of chain-link fences and their benefits
There are many different types of chain-link fences, and each style has its unique benefits. Here are some of the most popular types of chain-link fences and their benefits:
Galvanized chain-link fences
These fences are made of galvanized steel, making them rust-resistant and durable.
PVC-coated chain link fences
These fences are covered in a PVC coating, making them weather-resistant and preventing rusting.
These fences are made up of chain link fencing with slats attached to them, which provide privacy for your property.
Vinyl coated chain link fence
This type of fencing is weather-resistant and prevents rusting, making it an excellent choice for homeowners who want a durable fence that will last for years.
Each type of fence has its unique benefits, so be sure to choose the type that best meets your needs and budget.
Selecting chain link fencing materials
To install the fencing, you'll need the following materials: chain links (galvanized steel or PVC-coated), fence posts (round or square) with post caps, gate hardware kits, fencing fabric rolls, wire ties (steel galvanized), tension bars, thread tension wire, and a fence stretcher.
When selecting fencing materials, be sure to choose quality products that will last for many years.
The galvanized steel used in fences is very durable, while the PVC coating on PVC-coated fences protects them from rust and weathering.
Chain-link fabric is also available in various colors, so you can choose the one that best suits your property.
Planning your fence installation
When you're planning your fence installation, it's essential to take into account a few key factors:
Once you've considered all of these factors and check with your local municipality, you'll be able to determine the suitable fence kit for your needs. Most fences come in kits that include everything you need to install the fence, from posts to tension wire to fittings.
Chain link fencing installation
1. Measure the area you want to fence in
When measuring your property for a chain-link fence installation, remember to consider any obstructions. You'll need to measure all property lines, including areas around trees, bushes, and buildings, for example.
2. Purchase the chain link fence and set the line posts
Once you've determined the size and style of fence you need, it's time to purchase the materials. This type of fencing is available in various sizes and styles, so be sure to choose the right one for your needs.
Be sure to buy quality fence materials that will last for many years.
3. Dig post holes with a post hole digger
The next step is to dig holes for all the posts, including corner posts and gate posts. It's important to make sure that when you dig fence post holes, the holes are sturdy enough to support the weight of the fence. If the posts are not adequately supported, the fence could sag or fall over.
Next, the fence ties to all fencing posts. They come in two different types: round and square. Round posts are easier to install, but square posts are more durable.
To install line posts, dig a hole for each post and set it in the ground line. Fill the gap with gravel and tamp it down to ensure that your chain link fence will be stable and secure.
Once the fence posts are in place, it's time to install the chain link mesh. Chain-link fabric or mesh is available in various colors and styles, so be sure to choose the one that best suits your style.
To install the fabric, unroll it along the length of your fence and attach it to the fence posts with chain link ties. If desired, you can also use the chain link fence posts to attach the fabric to your fencing.
6. Installing chain links
Once you've installed the fence fabric, it's time to install the chain links that will make up your fence.
To do this, attach one end of a chain to a fence post and secure it using chain link ties. Then, attach the other end of that chain to another fence post with chain link ties as well.
Repeat this process until you have installed all of your chain links on both sides of the fabric (top and bottom).
It is important to note that you will need to install an extra chain link on each side of the gate post if you are installing a double gate.
7. Make sure there are no sharp edges on the fence
When installing a chain-link fence, it's vital to ensure no sharp edges on the fence.If there are any sharp edges, they could injure someone who comes into contact with them.
Using a file to smooth down any sharp edges on the chain-link fence to avoid this. This will help keep everyone safe and protected.
Once your chain link fence is installed, it's time to add the finishing touches. This includes installing the post caps on your fence posts and adding any desired accessories, such as a gate latch or lock.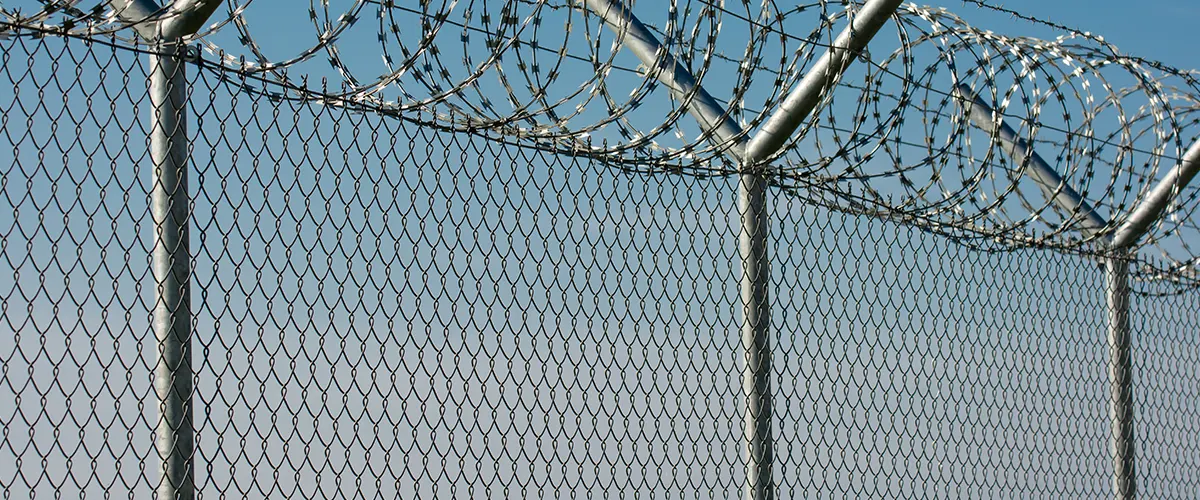 Chain link fencing requires little maintenance over the years, but there are a few things you can do to keep them looking their best.
To start, be sure to keep the area around your chain link fence clear of debris and overgrown vegetation. This will help prevent the fence from becoming clogged or covered in vines.
You can also wash the fabric with a hose to remove any dirt or dust build-up. Just be sure to dry it off entirely afterward to not rust.
If you notice any damage or wear on the chain-link fabric, you can repair it by using a wire brush to remove the damaged area and then applying a coat of fence paint. You can even make things easier by using spray paint.
Finally, if you have fencing around an in-ground swimming pool, be sure to keep it clean and clear of algae. Algae can create slippery conditions, which could cause someone to fall into the water.
Installing chain link fences can be a bit tricky, but after you've constructed one post-to-post stretch of chain link fence, all other sections are easier to build.
They are an excellent option for homeowners and businesses alike because of their affordability, durability, and versatility.
If you're interested in installing a chain-link fence on your property, our comprehensive guide can walk you through the entire process.
We also offer installation services to make the process easy for you. Contact HankinsDecks today if you have any questions or want us to help with your fence project!