People staring in your yard or having to deal with other dogs on your lawn is an unpleasant situation. A backyard fencing project is the best way to keep unwelcomed visitors away.
A new fence improves the look of your backyard, and provides increased security and privacy.
From traditional wooden fences to modern metal fencing, there's sure to be a style that fits your needs and taste, but most importantly, your home.
However, deciding between so many types of materials and fence styles can be a daunting task. Which is why we created this list of top 8 cool ideas for your backyard fencing project.
Keep reading and discover which fence style matches your home and meets your lifestyle needs.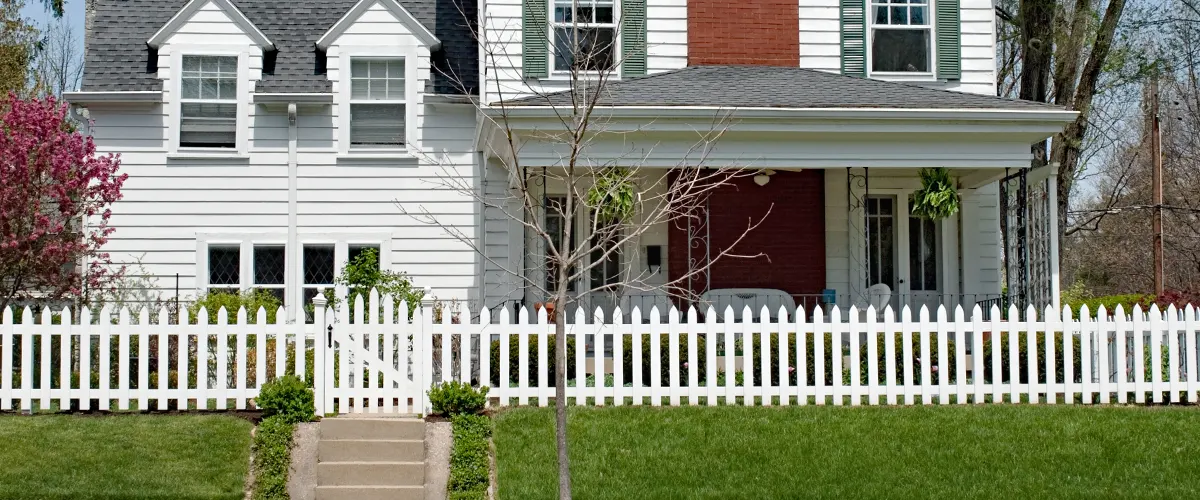 Because we'll discuss fences and some of their aesthetic aspects, it's best if you know exactly what to imagine in your backyard. Below we discuss the main components of a typical fence.
Wood Picket Fences are usually 3 to 4 feet high. These fences are named after their widely spaced, pointy-topped pickets which discourage climbing and shed raindrops.
Wooden fences, in general, have been around for centuries and remain one of the most popular fence types to this day. And for good reason – they can match any home style, are relatively affordable, and are easy to maintain.
Picket fences are especially popular because they provide a great deal of security by keeping people and animals out. But above all, they just look darn good. 
If you're looking to keep things simple, a wooden picket fence for your backyard fencing project is the way to go.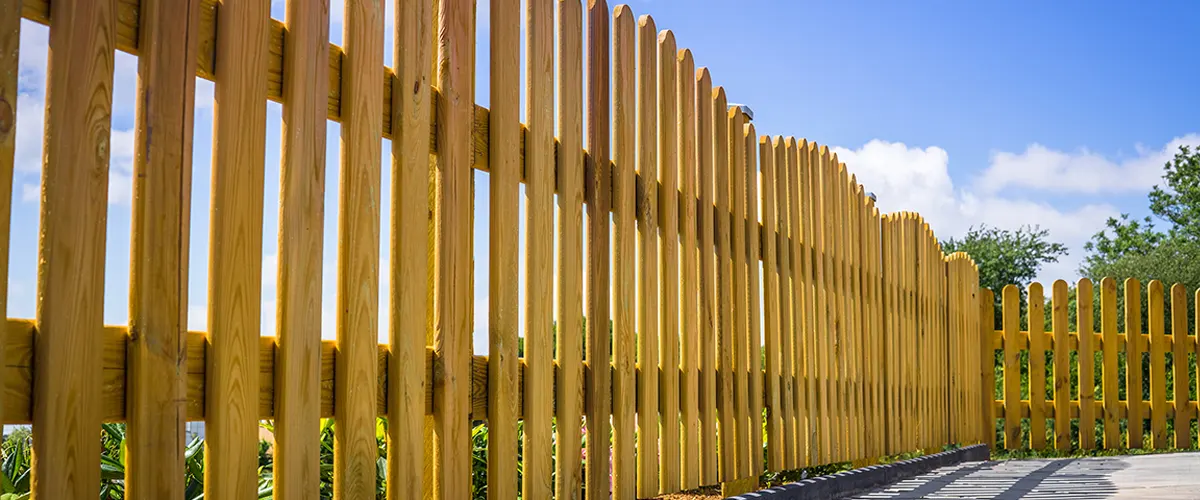 A post and rail fence, or a split rail fence, is a simple fence made with only a couple elements to it. This is an inexpensive fence ideal for a tight budget. It makes a bold demarcation between properties, and you've definitely seen it in your favorite cowboy movies.
While it might not be the best choice to keep small animals inside, this log fence is traditionally in farms. For instance, farmers choose split rail fences for penning livestock and corral animals so they roam free in their little openness.
TIP: Use hog wire and barbed wire around the perimeter fence to keep your property boundaries safe from unwanted intruders.
This type of fence is what experts call a goat proof fence. It's ideal to keep farm animals inside the property, and it serves as a visual cue to let people know they are entering a different space. 
Although this is a cheap fence, it adds value to your property and creates a sense of unity and organization.
This fence is low-maintenance, but if you have a large area where you want it installed, it's best to leave it to the professionals.
A wood lattice fence is made of crisscrossing strips of lath that obscure the view and allow air and light to pass through. This fence design is perfect if you want to give your plants and flowers a great environment to grow.
Compared to a hedge plant fence, it costs almost no money to make every linear foot of this thin branches structure a living fence that is visually appealing and natural.
Because this screen helps plants and flowers grow easier, a wood lattice fence is great for gardens or small entrances. The natural feel of this beautiful fence gives a sense of beauty and improves the entire look of your backyard.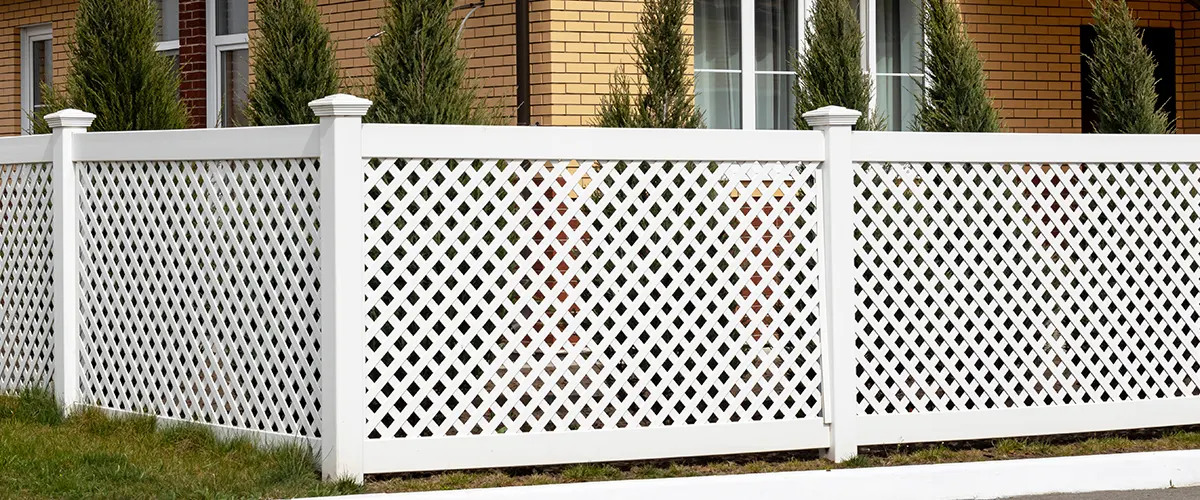 Vertical louvers – or staggered boards – offer privacy when viewed straight on, but allow airflow and open views from the side.
Louver fences are a great option if you're looking for simplicity and good taste. The boards are stacked on top of each other on a smaller post than usual, which gives this fence an elegant look.
This makes the louver fence a great option for your backyard fencing project, but it might not be the best choice in a front yard.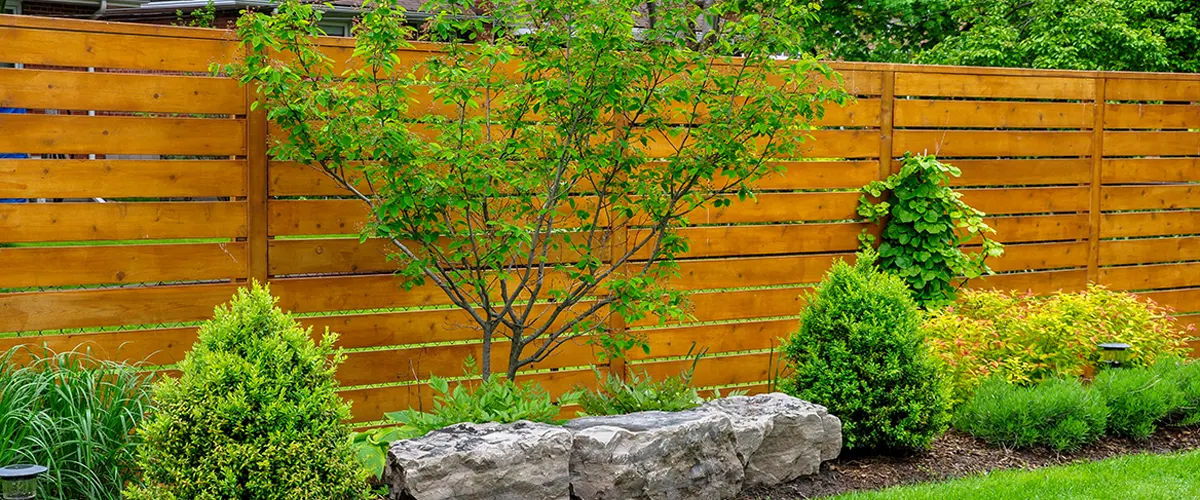 This fence is made of overlapping or butted edge to edge, tall vertical boards. As a result, this type of fence ensures privacy and a good airflow, the perfect balance for a backyard fencing project.
Vertical board fences are made so that when you look from the side, only a small part of the yard is visible. When you're standing right in front of it, the interlinked board blocks the sight.
What's great about this fencing option is that you can upgrade your existing fence, add another plank in between, and create a low cost, budget friendly vertical board fence.
This particular type of fence is perfect for lousy neighbors that love to know what's going on in your backyard.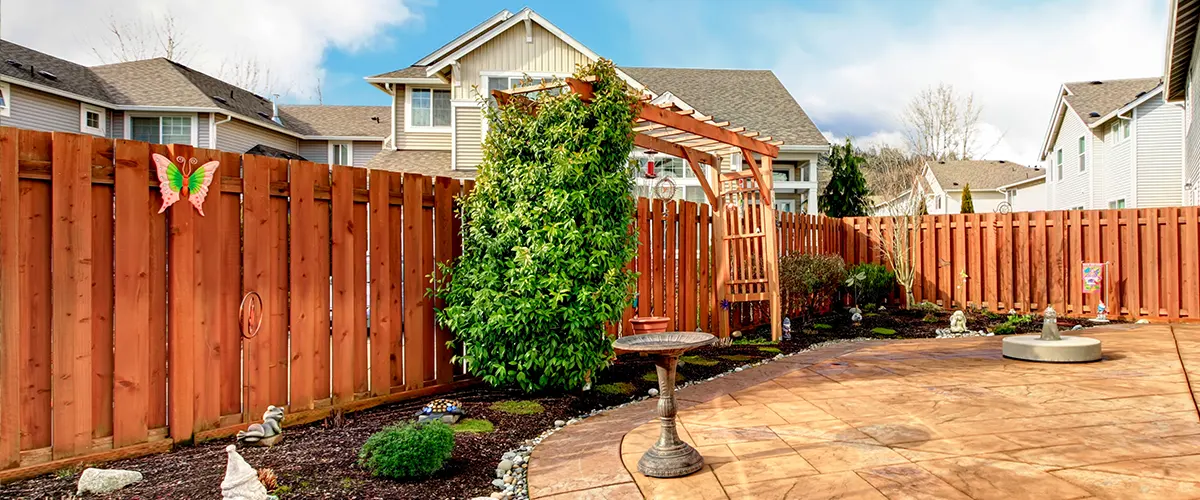 This type of fence is made from steel, aluminum, or fiberglass made to resemble wrought iron.
You've seen this type of fence on expensive properties, like the front yard of a mansion or an official building. An ornamental fence is perfect if you want to show something in your yard, like flowers, a pond, or a fountain.
There are a number of benefits to this fence, but it also comes with a few downsides.
For instance, you can paint it in absolutely any color and it's strong and sturdy. Besides, you'll have a life warranty or a 20 years warranty for the materials.
However, it offers no privacy and the installation cost can get hefty real fast, since all metal posts need to be placed in concrete. In addition to that, the material will need constant treatment against water if you want to keep rust away from it.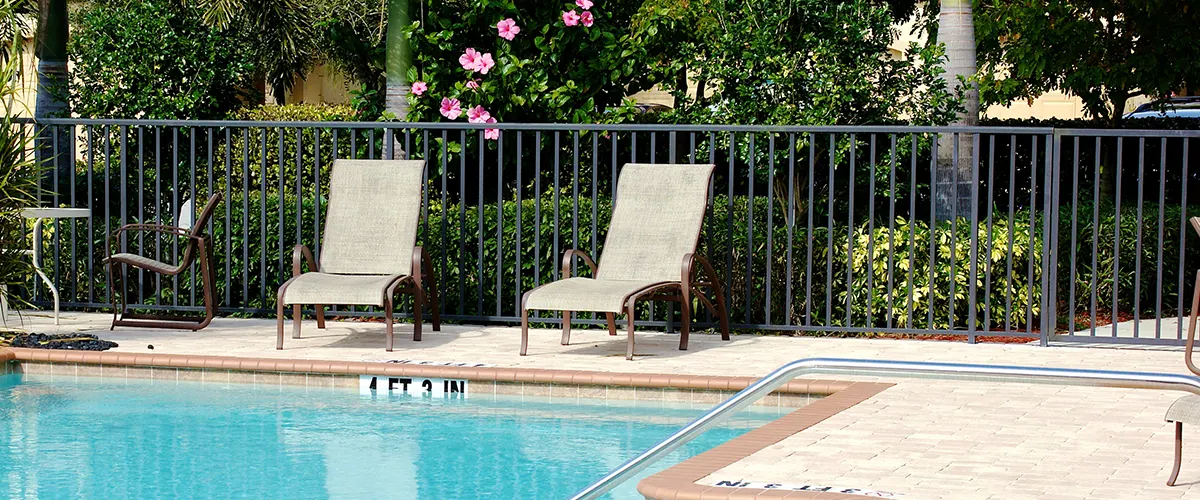 The vinyl fence is one of the most common choices for homeowners when it comes to fences. It offers a good deal of security and privacy at an affordable price.
The vinyl fence is made of hollow PVC posts, rails reinforced with metal or hardwood for added protection, and vinyl planks that act like fence pickets. This fence is also great because it blocks a good amount of noise.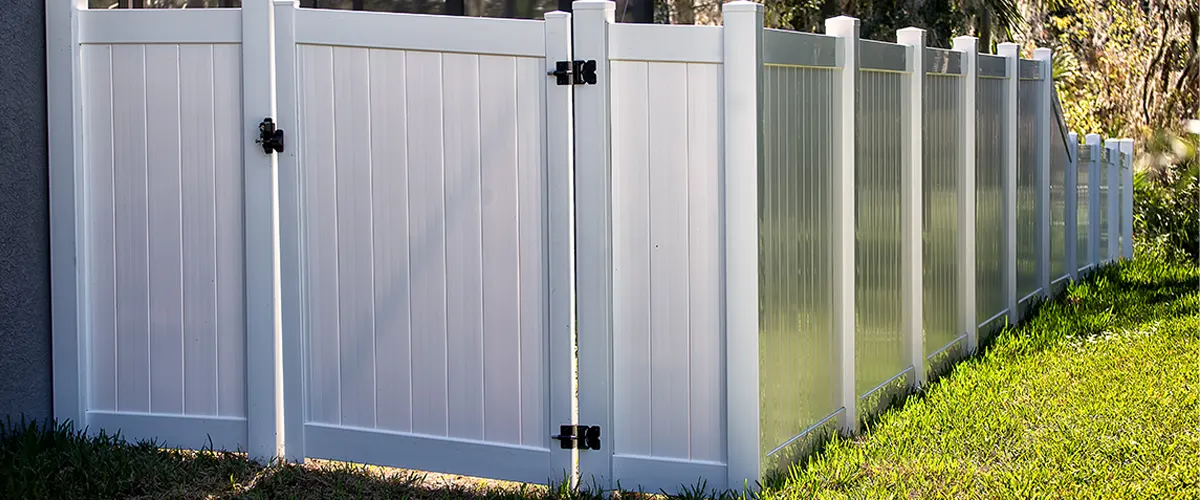 The composite wood fence is made of recycled materials like a sawdust and plastic blend that ensure a strong, easy to maintain structure. Combine a composite fence with solid wood T posts and metal reinforced rails for added protection.
This fence is great for most home styles because it's beautiful and quite easy to match with anything. In addition, choose a neutral color for your composite wood fence and you'll be sure to have a fence that complements the entire property.
Composite wood fences from big brands come with a warranty of 20 to 25 years. Besides, these are some of the most resistant fences you can find out there.
However, their installation cost can get expensive, as posts need to be set in concrete every 6 feet. Extra digging and concrete manufacturing will add to the final price, making composite wood fence a bit more expensive than your usual wood fence.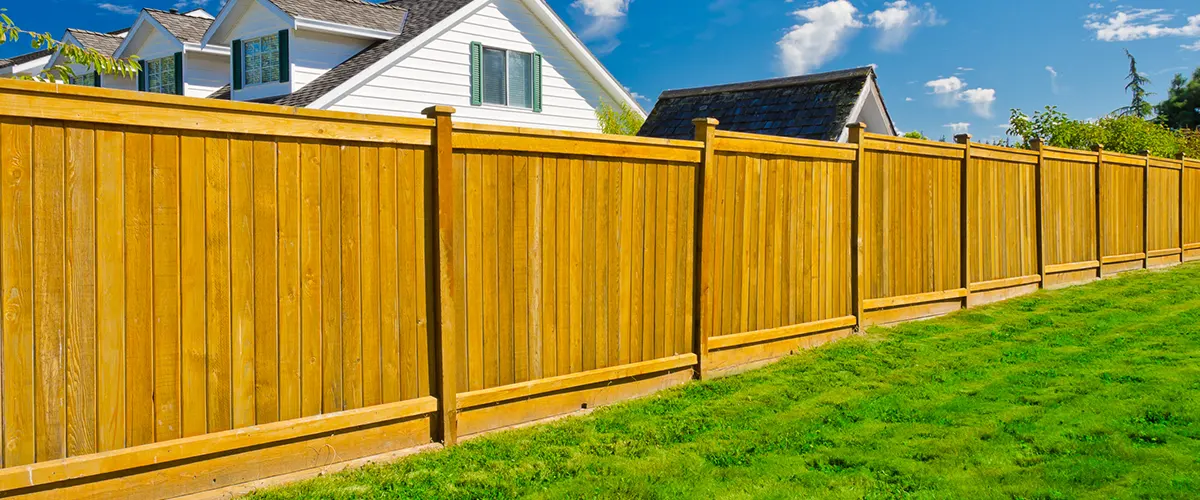 Fences are your home's first line of defense. Studies show how they offer a great deal of security and privacy for you and your loved ones, and make life easier when at home.
Out of all types of backyard fencing that we mentioned, there's definitely one that will perfectly fit your needs and lifestyle.
In any case, we recommend avoiding the chicken wire garden fence or the wattle fencing. A backyard fence needs to look great and provide the privacy you need in your garden. A bamboo fence or a pallet fence is a low cost option, and just what you need to replace an old fence or an inexistent one.
Here at Hankins Decks our experts are ready to give you clear and insightful advice for your particular situation. Our simple and straight forward process ensures you'll get the best fence in the neighborhood.
Get in touch with us today and increase the sense of security for you and your loved ones!