Connect With Nature And Enrich Your Lifestyle With An Incredible Outdoor Living Space
Crafting beautiful decks and outdoor living spaces in Overland Park, Olathe, Leawood, Lenexa, and more of Johnson County, Kansas
Make The Most Of Your Home
Increasing the time you spend outdoors can help you reduce stress, boost creativity, and improve your overall mood—something as simple as enjoying a bit of natural sunlight can improve your health and disposition.
Modern technology is incredible in helping us work productively, connect with distant family and friends, and provide digital entertainment. However, it cannot replace the peace and solitude that an outdoor living space provides, nor the physical gathering space to bring your loved ones together. Let us give you an opportunity to step away from the screen and give your eyes time to relax.
Transform your backyard into the oasis of comfort you've always imagined and trust us to bring your vision to life.
Some of the most popular outdoor living features homeowners like you are choosing include:
The Perfect Retreat For Entertainment
If you enjoy entertaining your friends and family, outdoor living spaces are an excellent way to get everyone out of the house.
Indoor entertaining can be limiting, whereas outdoor living areas provide the right amount of space to accommodate all your friends and family and enjoy all the activities you desire. The entertaining possibilities are endless—grilling, dining, dancing, or even a movie night under the stars! And for a touch of comfort and coziness, you don't miss adding a fire feature to your backyard.
Spend more time connecting with the people that matter most in your new backyard retreat.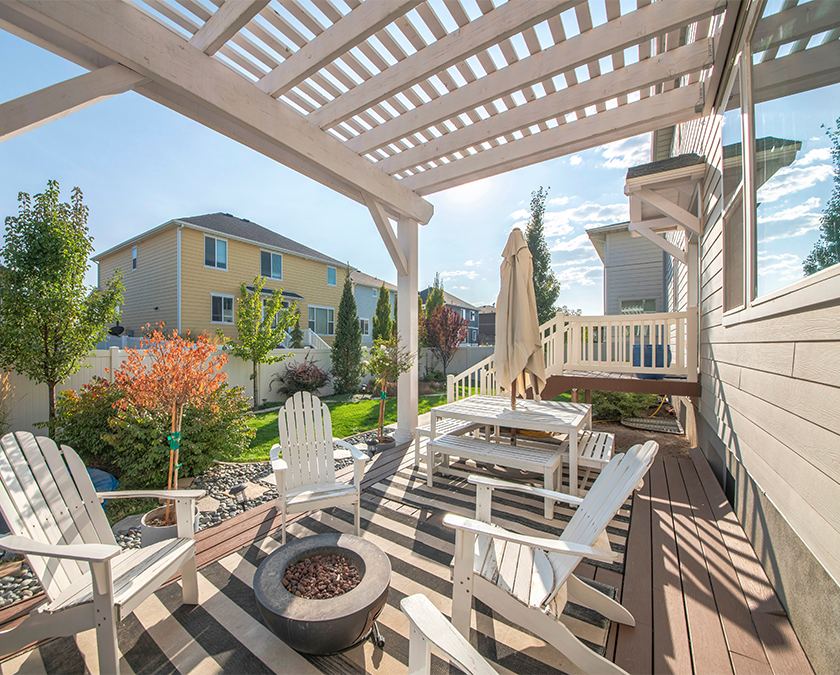 No matter the size of your backyard, we're up to the task of creating the perfect outdoor living space for your family.

Please get in touch with us so we can talk about your needs—fill out our form to get started. A brief phone consultation will help us discover your deck vision, and see how we can bring it to life.

We get to work on your project, using only high-quality materials. We commit to delivering the best results while keeping you comfortable and informed the whole time.

Get ready to host your first barbecue on your new deck with family and friends. You can enjoy a short getaway in your new and improved outdoor living space whenever you want.
Outdoor Living Space Pricing
When you decide to partner with us, you choose a team that brings the perfect blend of passion and experience. No matter the size of your deck, you are guaranteed top-quality materials and excellent results.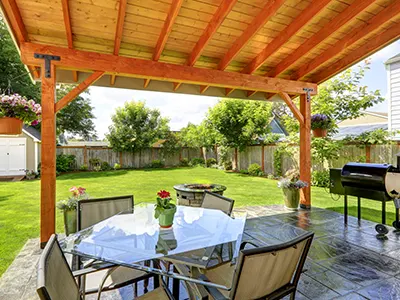 Basic Outdoor Living Space*
Includes a 300 sq. ft. patio, with simple pavers or flagstone, firepit, pergola, grading, and landscaping.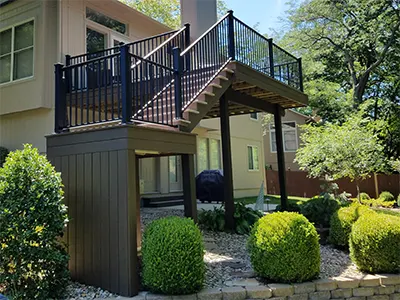 Average Outdoor Living Space*
Includes a mid-sized composite deck with pergola, deck ambient lighting, staircase, benches, aluminum railing, and plants around the deck.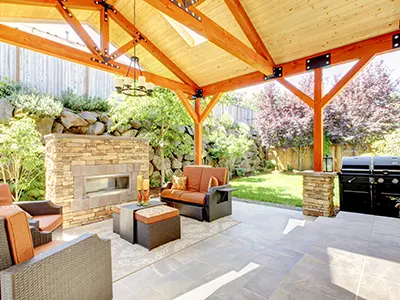 High-End Outdoor Living Space*
Includes a mid-sized composite deck with pergola, deck ambient lighting, staircase, aluminum railing, and plants around the deck. Also includes a mid-sized paver patio with a fire pit and a seating wall.
*Prices are averages and may change depending on the size of your backyard project and your choice of materials, finishes, and features. You'll receive an exact quote for your outdoor living area after the in-house consultation.
What Happy Homeowners Say
We realize that choosing the right contractor to craft your outdoor living space can be challenging. We hope our customer's reviews will make it easier for you to decide.
Matt was awesome to work with. We had him screen in our deck recently. Super quick on quotes and communication. Very thorough and detailed. Keeps you in the loop. He got to our project ahead of schedule. The price was very fair and we feel like we got everything we wanted.
The team at Hankins Decks did a fantastic job replacing our old deck. Although they were not the cheapest quote we received, the details Matt shared with us showed his vast knowledge of his craft. It was an easy choice for my wife and I to trust them to see our job through.
Quality workmanship and materials. The owner was easy to work with.
Let Us Craft You A Unique Outdoor Destination